Greece's Financial Woes Are Far From Over
Debt stands at 176 percent of GDP. No one knows how Greece will pay
by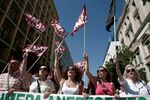 There were glimmers of hope in Athens in late September as international lenders arrived for a new round of talks on Greece's debt crisis. The government said it would post a small budget surplus this year, with the economy set to contract a less-than-expected 3.8 percent. Tourism is up, Greeks are depositing money in banks again, and a poll released on Sept. 25 showed support for the governing coalition holding steady.
Could this be the turning point? Six years of recession and the austerity measures demanded by Greece's creditors have shrunk its economy by 25 percent and pushed unemployment to more than 27 percent. It seems the country has suffered enough.
Alas, there's almost certainly more pain to come—not only for the Greeks, but also for investors in the country's sovereign debt. Despite improved government finances, debt is now 176 percent of gross domestic product, even higher than it was in 2012 when investors agreed to write off more than €100 billion ($135 billion) in bond holdings. "The overhang is huge," says Miranda Xafa, a former International Monetary Fund executive board member who now runs Athens-based E.F. Consulting. No country has ever managed to pay down such a heavy debt load, Xafa says. "There will have to be a haircut"—in other words, a second round of debt forgiveness.
German Chancellor Angela Merkel, whose resounding election victory guarantees her a dominant role in managing the Greek crisis, has tried to quiet talk about a haircut. Demanding more sacrifices from Greek bondholders could "trigger a domino effect" that would undermine confidence across the euro zone, she told the German magazine Focus in August.
Xafa says the longer a writedown on the bonds is delayed, the greater the risk that the debt burden will prevent Athens from meeting the terms of its €240 billion in rescue loans from the IMF, the European Central Bank, and Greece's European neighbors.
The IMF forecasts Athens will face an €11 billion financing gap over the next two years, including some €4 billion in shortfalls in 2014. The IMF and other agencies will likely pump in more aid—and demand more austerity. The government is also under pressure to end a five-year moratorium on mortgage foreclosures. Thousands would lose their homes if foreclosures were allowed. "This could lead to an explosion" of protests, says George Tzogopoulos, a researcher at the Hellenic Foundation for European & Foreign Policy in Athens.
The mood on the streets is ugly. Riot police broke up recent strikes by school personnel. And a spate of attacks linked to the far-right Golden Dawn party, including the stabbing death of a young rap musician, has the country on edge. "The anger is rising and rising," Tzogopoulos says. "People see no light at the end of the tunnel at all."
Before it's here, it's on the Bloomberg Terminal.
LEARN MORE