FDA Regulators Eye Medical Apps for Mobile Devices
There are 97,000 health applications available for download
By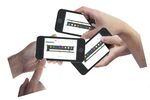 In February, Biosense Technologies Private Ltd. made a splash when it unveiled uChek, a mobile application and companion kit that lets people use their phone cameras to read subtle color differences on urine test strips. The creators of uChek say their invention can help determine an individual's risk for more than 25 medical conditions, including diabetes and hepatitis. What they didn't anticipate is the need for government approval to sell their product in the U.S.
On May 21, less than a month after making its first sale stateside, Biosense, based in Thane, India, received a letter from the U.S. Food and Drug Administration indicating that the company might need to seek clearance for its product. The letter signaled a push by the agency to regulate smartphone apps that tap into a growing consumer desire to self-diagnose health ailments. "There's a gigantic gulf between the tech industry and the medical regulatory infrastructure," says David Jones Jr., chairman and managing director of Chrysalis Ventures, a Louisville-based venture capital firm that specializes in health-care and technology investments.
The mobile health app market may reach $26 billion by 2017, says a March report by Research2Guidance, a Berlin consulting firm. There are 97,000 mobile health applications available for download at major app stores. The vast majority won't have to be cleared through the FDA, which on Sept. 23 completed regulations on the level of oversight such products will receive. Apps that turn a smartphone or other gadget into a regulated medical device, such as an electrocardiogram machine, must be submitted to the agency for review. Companies that don't comply risk having their product banned in the U.S.
Pursuing FDA approval can cost tens of thousands of dollars and consume several months or even years. Before going that route, many startups seek validation from the marketplace. Scanadu, a mobile technology company based in Moffett Field, Calif., broke fundraising records on the crowdfunding site Indiegogo this summer with its $1.6 million haul for Scout, a monitor that connects wirelessly to a smartphone to take readings of a user's blood pressure, temperature, heart activity, and other vital signs. The startup plans to submit the device for approval by the FDA.
Biosense began taking preorders for uChek on Indiegogo in July, pricing its first-generation kit at $25 and a newer, souped-up version called the Universal at $84. "If your idea doesn't carry weight, your customers aren't going to buy it," says Biosense co-founder Myshkin Ingawale, who was a presenter at the TED 2013 conference. The company has also developed a handheld device that uses a beam of light, rather than a blood draw, to screen for anemia.
With health-care startups now turning to crowdfunding, Jack Lasersohn, a general partner at the venture capital firm Vertical Group, says investors must be aware of the potential for FDA regulation. "In venture capital, there are people who invest in med tech and biotech, and there are people who don't," he says. That's partly because "it takes years and years," he says, "to really master the regulatory system, which is very complicated."
Drafted in 2011, the recently completed FDA guidelines require apps that diagnose or treat conditions to meet similar quality standards as heart stents, ultrasound machines, and other medical devices that can pose a risk to patients if they don't work properly. For such products, the agency requires a 510(k) application, which is the least stringent of the device approval pathways and doesn't typically require clinical trials. Verizon Communications recently gained clearance for a remote-monitoring system that allows doctors and other medical personnel to pull up-to-the-minute data from biometric devices worn by patients. The review process took a "little less than a year," says Verizon spokeswoman Janet Brumfield.
Biosense had earmarked some of the funds it was trying to raise on Indiegogo for completing regulatory paperwork. The startup, however, didn't make its funding goal by its self-imposed Sept. 10 deadline. "We reached $15,000 but fell well short of our $42,000 target," Ingawale said in an e-mail. So, for now the uChek "will not be made available in the U.S."
BOTTOM LINE -
The bottom line: New rules will require makers of apps that turn smartphones into medical devices to submit them to an FDA review.
Before it's here, it's on the Bloomberg Terminal.
LEARN MORE