Dr. Martens and Miley Cyrus Make an M&A Moment
By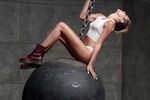 Dr. Martens, the maker of punkish combat boots ubiquitous in the early 1990s, is shopping for a buyer.
The British company, which has annual sales around $300 million, has hired the Rothschild investment bank to find a suitor that fits, according to the Wall Street Journal. The Journal, citing "people familiar with the matter," said a number of private equity firms have been interested and talks are in advanced stages with one buyer in particular.
Dr. Martens has been around since 1960, which raises the question: Why cash out now?
The world's hottest pop star might have something to do with it. Miley Cyrus sports a clunky pair of cherry-red Doc Martens (and little else) in her video for Wrecking Ball, the most popular song in the U.S. at the moment. There's no telling if Dr. Martens paid for that kind of, ahem, exposure, but it certainly doesn't hurt a brand that has long traded on punk sensibilities and anti-establishment anthems (see: Townshend, Pete, and Cobain, Kurt).
One of the companies marketing mantras is, "We stand for non-conformity." And the  product line is pretty irreverent. The boots have names like "Black Greasy" and "Bark Grizzly," monikers based on both the color and the type of leather.
Cyrus is actually a little late to the Doc Martens renaissance. Jessica Alba and Nikki Manaj were stomping around in them two years ago. As was Ewan Mcgregor.
So what does this all mean on Wall Street? Probably quite a lot. Any negotiation on a sale price for Dr. Martens is going to rest heavily on compound annual growth—"cay-grrr," as they say on Wall Street. And given how much noise the boots have been making in the music business lately, that number is probably pretty chunky at the moment.
And who knows, it might take another 20 years for Doc Martens to get this popular again. If a giant, buttoned-up, private equity firms buys the company, they may go out of style fast.
Before it's here, it's on the Bloomberg Terminal.
LEARN MORE