business
Charlie Rose Talks to Chilean President Sebastián Piñera
Chile's president discusses trade with China, promoting innovation, and how to reform the UN Security Council
By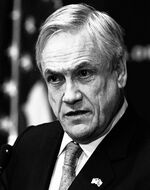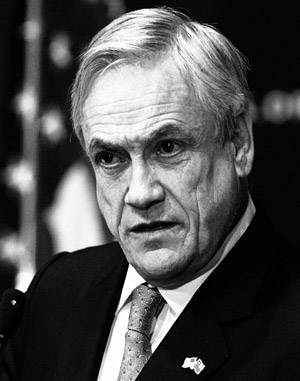 Can Chile maintain its 6 percent growth rate?
We can. It's not easy. It needs a lot of commitment and effort. We have been able, for instance, to increase investment as a percentage of GNP from 21 percent to 26 percent in the last three years and to promote innovation and entrepreneurship and invest much more—we're almost doubling our investment rate in science and technology. We want to keep growing at 6 percent, and we need to grow at 6 percent, because if we do that, before the end of this decade, Chile might become the first—though hopefully not the only—Latin American country able to defeat poverty and overcome underdevelopment.
According to Deutsche Bank, Chile's the world's first solar power producer to be subsidy-free. How did you do that?
Chile was very poor in terms of old sources of energy—gas, oil, coal. But we're extremely rich in the future sources of clean, renewable energy. For instance, we have the deserts with the highest solar variance in the world. And they're on a plateau, so there's no dust. Therefore the capacity to produce solar energy is incredible. It's becoming competitive. We're not doing what the Spaniards did. They subsidized everyone, then they couldn't afford it.
You've also been trying to jump-start your technology sector. Is it working?
We have two programs. One is Start-Up Chile. We're trying to attract innovators from all over the world. We're saying, "Come to Chile to develop your idea, and we'll give you a grant." It's about $40,000. We've been able to attract more than 1,000 entrepreneurs. At the same time, we're sending Chilean innovators to Silicon Valley or other places for them to be able to learn this atmosphere, this culture of innovation, science, technology. Innovation can be learned.
You export a lot of copper to China. Has that proven to be a good relationship?
China has become by far our largest trading partner. We've had a diplomatic relationship with China for the last 43 years. We have different systems, of course, but we get along very well. By the way, there's something very curious here, because one of the few countries with which China has a trade deficit is Chile. And one of the few countries with which the U.S. has a trade surplus is Chile, so it's kind of a paradox.
What's Chile's relationship with the U.S. like today?
It's a very good relationship, because it's not only trade. We have very good relations in terms of investments, in terms of political dialogue. And my intention is to keep it that way. There was a time when American aid to Latin America was very important. That's over. The U.S. is not as rich as it used to be, and Latin America is not as poor as it used to be. What we're looking for with the U.S. is basically a partnership.
Chile may soon be back on the UN Security Council. What ideas do you want to bring to the table?
We hope to be back on it on Jan. 1. And we think that some countries should be incorporated as permanent members, because the council has 15 members, and the winners of the Second World War are the actual permanent members: the U.S., France, Britain, China, and Russia. I think that countries like Brazil, Germany, Japan, and India should be part of the Security Council as permanent members. And I think we should try to get rid of the veto power and establish some kind of supermajority to take the biggest decisions.
Before it's here, it's on the Bloomberg Terminal.
LEARN MORE