What Angela Merkel Owes the Rest of Europe
The reelected chancellor should lay out a vision for securing the future of the union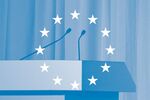 German Chancellor Angela Merkel's reelection was both resounding and well-deserved. Having secured a mandate from the German people, she now must tell Europe how she plans to secure the future of the union and its currency, the euro.
Europe needs this speech for two reasons. The first is that Merkel's firefighting policies have managed to keep the euro area together, but at a cost to the European Union; the "ever-closer" integration that has been under way since the 1957 Treaty of Rome is in question. Merkel may be the only person who can credibly restore a sense of direction to the union. The second is that financial markets, investors, Greeks, Spaniards, and others need to know that Europe's most important economy is committed to the euro zone's future.
The chancellor should reiterate that Germany, to borrow from European Central Bank President Mario Draghi, will do "whatever it takes" to secure the euro—and other euro zone members must do so, too. All 17 countries must recognize that they have a choice to make: Either pool risk and responsibility or live with a euro perpetually exposed to the risk of breakup.
To keep moral hazard and potential transfers in check, Europe needs a clear framework for future bailouts, clarifying how investors will be expected to share the cost with taxpayers. Merkel also needs to make the case for a functioning banking union that includes a single supervisor, a single resolution mechanism, and the fiscal capacity to make capital injections.
The next step must be debt relief. At least four euro zone governments, with a combined debt of almost €3 trillion, have no hope of reducing their debt obligations to less than 60 percent of gross domestic product, the level the EU has defined as prudent. These economies won't be healthy until that debt burden is relieved, and Merkel should make clear this can be done if the countries reform as asked.
Some system of fiscal transfers in times of crisis is essential, and the best mechanism for this in Europe is an unemployment insurance fund to help those who lose their jobs in a downturn. Merkel cannot commit to creating euro bonds, the ultimate guarantee that the currency will need. But she should make clear that option is open, at the end of the process.
Merkel could take her speech around Europe, spelling out what will be required of each audience and what it has to gain. In Athens she can stress that pushing forward with stalled privatizations and fully implementing the International Monetary Fund's bailout requirements are prerequisites for debt relief. In Madrid she can talk about the need to restructure the country's banks. In Paris she can focus on labor market reform.
Merkel has been lucky so far with her incremental approach to Europe's debt crisis. But events can get quickly and unexpectedly out of control. A permanent solution is necessary, and the next German chancellor is the only person in Europe who can credibly set out a plan to reach it.
Before it's here, it's on the Bloomberg Terminal.
LEARN MORE