Valve's Game-Console Push: A Vote of No Confidence in Microsoft
by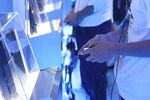 While the gaming world is preparing to be upended by new consoles from Microsoft and Sony this fall, game developer and distributor Valve is getting into the mix with its own game-playing hardware set to come out in 2014.
Valve, which runs the preeminent distribution network for PC-based games, Steam, is now working on a range of gaming devices to be called Steam Machines. While Wednesday's announcement was short on details, Valve described partnerships with several hardware manufacturers to build devices that play PC games on televisions. The company is also building its own devices and signing up 300 beta testers to try out the prototypes.
Earlier this week, Valve said it is creating an operating system for gaming, which all the Steam Machines will run. The company has a third announcement scheduled for Thursday, which seems to be a gaming controller. Valve didn't respond to requests for comment.
Going down this path is a flip of the nose to Microsoft. Many developers are increasingly unhappy with the giant company's perceived inability to innovate. Last summer, Valve Chief Executive Officer Gabe Newell said developers were interested in other operating systems because Windows 8 was a "catastrophe." By creating a line of devices for living rooms, Newell is positioning his company as a Microsoft competitor.
It's a heavy lift. Building a new operating system is hard, in part, because you have to convince developers to use it. This could be Valve's big advantage: It has a great relationship with companies that make games, and gamers already know the company as the place to find content. But Valve may be complicating things by spawning many different devices that could require games to be tweaked and re-tweaked.
Valve has been hinting at these moves for months. If anything, Wednesday's announcement raises more questions than answers because it reveals so little about the specifics of Valve's plans. Whether the company has a chance of fulfilling its goal should be clearer next year.
Before it's here, it's on the Bloomberg Terminal.
LEARN MORE