'Operation Clean Turf' and the War on Fake Yelp Reviews
Eric Spitznagel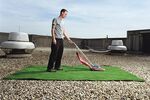 On Sept. 23, New York State Attorney General Eric T. Schneiderman announced that officials had busted 19 companies after a year-long undercover investigation of criminal practices. What were these companies doing?
They were writing or commissioning fake online reviews, or "astroturfing," as it's sometimes called—a reference to the artificial grass used in sporting facilities. According to the official release from Schneiderman's office, a sting operation codenamed "Operation Clean Turf" involved creating a fictional yogurt shop in Brooklyn and then approaching SEO ("search engine optimization") companies to ask for help with their negative online reviews. The investigation revealed that the Internet was being "flooded … with fake consumer reviews on websites such as Yelp, Google Local, and CitySearch." Some of the companies were using IP-spoofing techniques to conceal their identities, and paying writers "from as far away as the Philippines, Bangladesh and Eastern Europe for $1 to $10 per review."
Writing or using a fake review to promote your business is definitely unethical, but is it against the law?
Actually, it is. Here's the legalese if you're interested, but the short version: You can't lie to consumers.
Are these companies being shut down while the owners go to jail?
Well, not exactly. Companies like Zamdel, which posted over 1,500 fake reviews on websites such as Yelp and Google Places, and US Coachways, the national bus charter company based in Staten Island, N.Y., were fined. The penalties ranged from $2500 to a little under $100,000. The accused companies have also agreed to stop using phony reviews entirely.
Can we trust them?
That's up to you. They're certainly under closer scrutiny now. But the 19 companies targeted by Operation Clean Turf aren't the only ones generating fake online reviews. Mary K. Engle, who directs the U.S. Federal Trade Commission's Division of Advertising Practices, says there's no hard data on exactly how widespread the problem is, but "I've heard estimates that 15 to 20 percent of online reviews are fake."
Are people concerned at the websites where these fabricated reviews are being posted?
Yes. Yelp in particular is making very public strides to punish fraudulent reviewers. As Bloomberg Businessweek reported earlier this month, lawyers representing Yelp filed a lawsuit in late August against McMillan Law Group, accusing the San Diego firm of "try(ing) to game the system by stacking the deck in their favor with planted or fake reviews." Harikesh Nair, an Associate Professor of Marketing at the Stanford Graduate School of Business, thinks this isn't just a publicity stunt. "There's a huge incentive for Yelp to crack down on this type of behavior," he says. "The fact that consumers trust their reviews is critical for their business model. Without it, they have no business."
Yelp's legal complaint, which asks for $25,000 in damages, says as much. "If Yelp users believed that Yelp reviews were written by business owners and employees about their own businesses," it reads, "the value of Yelp reviews, and of Yelp itself, would be undermined."
How will the Yelp lawsuit and the New York crackdown affect me?
Bing Liu, a computer science professor at the University of Illinois at Chicago—who has been developing software to help websites recognize fake reviews—isn't hopeful. "Online reviews will never completely be honest," he says. "But now the people writing them—and the companies selling them—will have to be more cautious." The only real change, he thinks, will be that this type of deception can't be done on a massive scale anymore. "If you're too obvious, you'll be detected," he says. "But it's still difficult to catch people doing these things on a small scale.
How important are online reviews to businesses?
Most research on the subject indicates that they are very important. In a new study by Dimensional Research, 90 percent of respondents said their buying decisions were influenced by positive online reviews, and 86 percent were influenced by negative reviews. A 2011 Harvard Business School study focusing on restaurant online reviews found that "a one star increase in Yelp rating leads to a 5-9 percent increase in revenue."
A second study—this one from Cornell University in 2012—examined hotel review sites such as Travelocity and TripAdvisor, and found that a one-point increase in a review score (on a five-point scale) allows a hotel to increase its price by up to 11.2 percent without scaring away customers. The better its online scores, the bigger the company profits.
How can I be smarter about what I read online?
A good rule of thumb: If it seems too good to be true, or too horrible to be true, it probably is. "Sometimes it makes sense to disregard the most positive and the least positive reviews," says Engle. "The positive ones should be obvious, but we've certainly heard complaints about companies posting negative reviews about their competitors." Nair believes the bogus content shouldn't make too much different for consumers who do their homework. "Never rely or be excessively swayed by any one opinion," he says. "It's a better strategy to sample across a wide range of reviews."
Yelp should be just the beginning of your pre-purchase research, not the sole information source. "There's this notion of the wisdom of the crowd that's still very useful," he says. "With enough opinions thrown in the mix, even if some of them are disingenuous, it all gets averaged out in the end."
Before it's here, it's on the Bloomberg Terminal.
LEARN MORE