Nascar Sponsorships at Bargain Bin Prices
by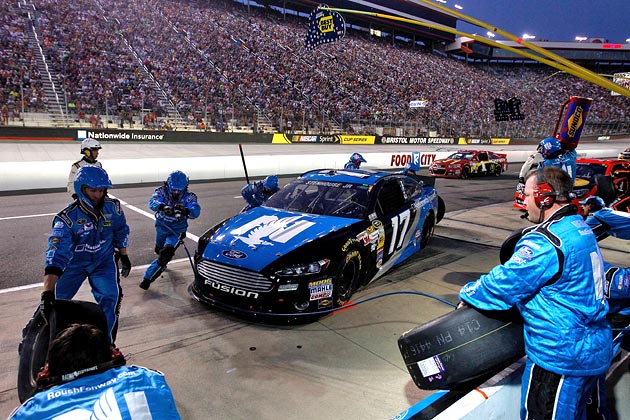 A pair of Nascar sponsors made big moves last week. Nationwide Insurance announced it would no longer be the title sponsor for Nascar's second-tier race series. And Napa Auto Parts severed a longstanding relationship with Michael Waltrip Racing (MWR) after one of the team's drivers deliberately spun his car at the end of a race to help a fellow Waltrip driver. Nationwide is not leaving Nascar, just shifting its spending to the top Spring Cup series. Napa says it will be evaluating its "position in motorsports."
Both moves come at a turbulent time for Nascar, with major sponsors PepsiCo, Anheuser-Busch, and UPS pumping the brakes, while Quicken Loans, Farmers Insurance,, and Time Warner Cable hit the gas.
We checked in with Zak Brown—whose agency, Just Marketing International, brokers motorsports deals for corporate sponsors—to get the temperature of the Nascar market.
Are these latest changes the sign of a downturn?
There's always churn, especially when you have this many sponsors. You've got thousands, certainly hundreds of big ones. So for every couple that go out, you usually have a couple that come in. Nationwide is still probably spending the same amount of money in the sport. It's just spending in a different way. Napa is an unusual exit because of the circumstances. And then Pepsi's been scaling back, but others have been scaling up. There isn't any type of signal, other than Nascar has got a lot of mouths it needs to feed, and the economy still isn't great in the world of sponsorship.
If Napa really loved its Waltrip deal, wouldn't they have stuck with it, despite the scandal?
I don't know that this is the case with Napa, but I have seen clients before where they have a chance to get out, or they want to reduce, and they take advantage of a situation. If Napa is exiting because of the incident, then the proof will be in whether they continue in the sport. My understanding is that they are not going to—which would lead me to believe that maybe, they were looking to exit the sport, anyway.
Is it fair to say it's a fragile market?
Yes, absolutely. There was a downturn. Now I think it's a flat and fragile marketplace. Things aren't booming. But the downturn happened a few years ago. You have seen more companies come in recently, Quicken Loans, Farmers. You did not see that three or four years ago; you just saw exiting. But some of the big ones are exiting, and they are being replaced by ones that aren't quite as big. So it is fragile.
Is it cheaper to get a sponsorship than it used to be?
The prices have come down. Of course, I would say this, you would think—but it is true: It's a buyer's market. The exposure is still very good. If you look at Nascar as you would a traditional stock's price to earnings, the value relative to the price reduction is really good. The Napa car is a very competitive car. You can get a good buy on that right now.
Before it's here, it's on the Bloomberg Terminal.
LEARN MORE