More MBA Programs Report a Surge in Applications
Lou Lavelle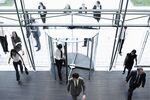 The number of MBA programs reporting an increase in applications surged for the second consecutive year but remain far from the high-water mark of 2009.
A new study by the Graduate Management Admission Council, which administers the GMAT exam, found that half of all full-time MBA programs surveyed reported an increase in applications, up from 43 percent in 2012.
In the U.S., 52 percent of full-time programs reported an increase, up from 32 percent last year, driven largely by increases in foreign applicants. In the Asia-Pacific region,  the opposite took place: the percentage of programs reporting an increase in applications plummeted to 46 percent, from 79 percent a year earlier, driven largely by declines in domestic applicants.
Despite two years of gains, application growth remains less robust than it was in 2009, when nearly two out of three full-time MBA programs reported a year-over-year increase.
After making some gains in 2012, the percentage of women in the business school applicant pool contracted in 2013, with executive MBAs, online MBAs, and masters programs in management and finance all seeing significant decreases.
The GMAC study is based on a survey of  328 business schools in 42 countries. Combined they received 333,972 applications for 2013.
Join the discussion on the Bloomberg Businessweek Business School Forum, visit us on Facebook, and follow @BWbschools on Twitter.
Before it's here, it's on the Bloomberg Terminal.
LEARN MORE