Louis Vuitton Shops for Even Richer Customers
by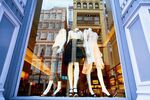 Louis Vuitton is raising its focus somewhat from the really affluent to the really, really affluent. The Paris-based conglomerate of fabulous and fussy things is launching a new line of very high-end leather handbags and accessories to complement its existing products, according to Women's Wear Daily.
The strategy raises the question: just how much more opulent can LVMH get? The company already sells $88,000 watches, $4,000 handbags, and $1,000 scarves. But if you are asking that question, the new LVMH line isn't for you. There's really no ceiling in the high-end retail game (consider astrakhan, a fleece harvested from fetal lambs).
LVHM has grown a little less rich of late. In the 12 months ended June, the company's revenue increased almost 10 percent—no small feat considering the crummy European economy in that period. At the same time, though, its profit declined nearly 4 percent.
No one would accuse the company of slumming, per se. It's just that most of its recent growth has come in lower margin areas, such as perfume and what the company calls "selective retail," which comprises airport concessions and makeup counters. For every $100 of sales in those areas, LVMH books only about $10 of profit. Margins on its alcohol and leather goods are around 30 percent. Thus the push for swankier and softer bags.
To produce the new ultra-luxury line, LVMH brought back designer Darren Spaziani, who had most recently been building accessories at Proenza Schouler. When he was at LVMH from 2004 to 2006, Spaziani worked under Marc Jacobs.
LVMH also made sure he'll have plenty of lush materials to work with. In July, the company spent $2.6 billion to buy an 80 percent stake in Loro Piana, an Italian textile producer that specializes in ultra-rare ingredients, such as fibers made from Myanmar lotuses and wool shorn from the vicuna, a llama-like creature that lives high in the Peruvian Andes.
In a conference call, LVMH communications director Christopher Hollis called Loro Piana "one of the most elitist brands in the world."
Before it's here, it's on the Bloomberg Terminal.
LEARN MORE