Harvard Business School Grads Weigh In on Gender Inequality
Louis Lavelle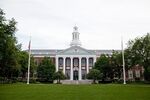 Three Harvard Business School graduates quoted in a controversial New York Times article on gender inequality at the school have a message for students who have criticized the article: You're in denial.
The open letter, by Brooke Boyarsky, Kate Lewis, and Neda Navab, published today in the Harbus,, the HBS student newspaper, is a rebuttal to two earlier essays the newspaper published claiming that the Times story exaggerated the extent of the problem.
The authors wrote that they disagree with the notion, implicit in the earlier essays, that admitting there's a problem devalues the institution. "We think that this kind of coverage is an empowering exercise," they wrote of the Times article, "a labor of love for our alma mater, that will make it a better place."
The Times article won't "dilute the HBS brand," they wrote, but denying that problems exist just might. "If those on the outside perceive HBS as a place where contrary opinions and open dialogue [are] unwelcome … we all lose," they wrote. "This is a place worth fighting for. Let's not shy away from the hard conversations."
Join the discussion on the Bloomberg Businessweek Business School Forum, visit us on Facebook, and follow @BWbschools on Twitter.
Before it's here, it's on the Bloomberg Terminal.
LEARN MORE