Etsy Wants to Be the Rust Belt's New Factory
By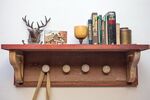 Since Bill Benson retired as a cabinetmaker, he's tried to sell custom frames, shelves, and other furnishings built with lumber salvaged from old barns. What he earns selling at flea markets and to acquaintances isn't enough to cover the $650 monthly rent on his workshop. "All my life," he says, "I could make anything except money."
Etsy wants to change that. The online craft marketplace last week started classes to teach business skills in Rockford, Ill., where Benson, 66, lives in public housing. He and eight other residents—from jewelers to printmakers—are learning how to set up small businesses and create online stores from a Rockford teacher and longtime Etsy seller. The company is expanding the free program with three classes in New York City starting this week and hopes to spread it to other cities soon.
Rockford, once famous for manufacturing furniture, faces the problems familiar to American cities built on last century's industries: 11 percent unemployment, lots of empty properties, and few prospects for growth. The city's partnership with Etsy began last year after Rockford Mayor Larry Morrisey reached Etsy's chief executive on Twitter, asking if the company did any job training.
Down-at-the-heels cities often bet their futures on luring big companies to build new factories or shopping centers. Instead of trying to find new uses for old real estate, Rockford is trying to help residents put their latent skills to work in ways that can bring in some money through their own entrepreneurship. Etsy's Dana Mauriello, who worked with Rockford officials, calls it an experiment "to prove that Etsy can be a force for economic and workforce development."
None of the Rockford students have sold on Etsy before. Most of them didn't have bank accounts before the Rockford Housing Authority helped them set up accounts. "The theory is, if you have a craft skill, we can teach you how to earn supplemental income," says Mauriello, Etsy's director of new business opportunities.
If Etsy proves it can turn crafters into entrepreneurs, it will open its curriculum for other cities to adopt. Mauriello says dozens of municipalities have inquired about how the site might help their local economies. The company isn't pretending it can solve their problems or replace lost factory jobs that paid middle-class wages and benefits. But the goal is to give residents who already know how to make things the tools to sell them, too. "This can be immediate and more flexible and more creative," Mauriello says.
Benson, a third-generation carpenter who now lives off his Social Security checks, is grateful for the help selling his creations. "My son used to tell me, 'Dad, the only person who wants your old junk is you,'" Benson says. "He wasn't right. A lot of people want nice things and handmade things."
Before it's here, it's on the Bloomberg Terminal.
LEARN MORE