Larry Ellison Wins America's Cup and Its Hearts. Now Give Him an NFL Team
by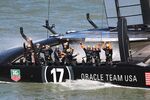 One of the weirdest things about Larry Ellison is that he doesn't own a professional sports team. According to the Bloomberg Billionaire's Index—aka the Self-Esteem Big Board—Ellison has more than $38 billion and ranks among the world's 10 wealthiest people. And yet, try and try and try as he might, Ellison just can't get a major sports franchise. What's a filthy rich dude to do?
How about the impossible: Make people care about the America's Cup?
Consider it done. Ellison's Team Oracle won the America's Cup on Wednesday by completing one of the more spectacular comebacks in sporting history. First, Team Oracle cheated and got served with a two-race penalty. Then, Team Oracle raced haplessly. (Early on, the crew would bring the boat to a screeching halt through careless maneuvers.) And then, Oracle came back from the dead to win an incredible string of consecutive races and confirm runner-up Team Emirates' place in the annals of choke history.
Ellison is such a showman that you almost get the feeling that the cheating and sucking was deliberate, just to drum up the suspense. After all, it took this heroic effort to suspend the tarring and feathering Ellison had taken for creating a race too expensive for others to participate in and too expensive for San Franciscans, who had subsidized this rich man's hobby, to bear.
The big takeaway from the America's Cup must now be that Ellison deserves a shot at the big time. He made sailing interesting, if for only a moment. He's built the BNP Paribas Open tennis tournament in Indian Wells into the "fifth grand slam." And he owns a major chunk of Hawaii, which has nothing to do with sports but does confirm Ellison's flamboyant grandeur—a must for any truly spectacular team owner.
Sure, there are those pesky Oracle investors who might argue that Ellison spends too much time on his hobbies already. The company's sales haven't been all that hot of late. Ellison is also meant to be the technology strategist, yet he has been investing in futuristic cloud companies such as Salesforce.com and NetSuite, while letting Oracle fall behind in the cloud computing race. Oracle has turned into a symbol of the expensive, slow-moving, old-line technology company that Silicon Valley youngsters so badly want to disrupt and bankrupt.
But on this grandest of days, ignore all that. Ellison did the impossible. He kept America and its team of Australian sailors on top of the world. Give the man a football team in Los Angeles.
Before it's here, it's on the Bloomberg Terminal.
LEARN MORE