A Famed Chef Tries Selling Veggies in the Yogurt Aisle
by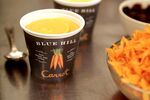 The world of yogurt has already gone Greek. Now what? The upscale farm-to-table restaurant Blue Hill, in New York's Greenwich Village, believes the answer just might be vegetables.
The restaurant is rolling out a new line of savory yogurts to Whole Foods stores across New York State. The brightly colored carrot, tomato, beet, and butternut squash-flavored yogurts will cost $3 per cup, touting all-natural ingredients and milk from grass-fed cows.
Blue Hill's acclaimed executive chef, Dan Barber, has been serving a beet-flavored yogurt to customers at his restaurants for years. The supermarket version will use a purée made by Blue Hill and be produced in small batches at Maple Hill Creamery in Stuyvesant, N.Y., which has its own brand of yogurt. Like Barber's restaurants, the veggie yogurts will use seasonal produce, and flavors will change. A sweet potato yogurt is planned for November, and parsnip will follow in December.
That's quite a departure from plain old vanilla, America's best-selling yogurt flavor, according to researcher Euromonitor International. In fact, all the most popular flavors are sweet, with strawberry, blueberry, and mixed berries the leading fruits.
U.S. yogurt sales continued to rise by 5.9 percent, to $7.6 billion, last year, due mostly to the Greek yogurt boom, according to Euromonitor. The largest producers are Danone (which will be making a Greek yogurt for Starbucks), Chiobani, and General Mills, which makes Yoplait.
At Whole Foods, the unusual veggie options will sit alongside a diverse array of yogurts: Icelandic, traditional, those made from alternative milks, and more. "This category is incredibly popular," says Whole Foods spokesman Michael Sinatra.
While Blue Hill is calling its yogurts savory, that doesn't mean salty—they're just not sweet. The flavors in a taste test came across as rather light, especially compared with what you'd expect from the vibrant colors. Some of the recommended toppings, including tomato and balsamic vinegar, make for surprisingly tasty complements to yogurt.
Before it's here, it's on the Bloomberg Terminal.
LEARN MORE