The Emmys Ride TV's Renaissance to a Ratings High
By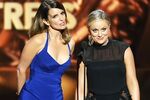 Now that we can watch a show whenever we want and wherever our smartphones will take us, television's storytelling possibilities—complex characters, interwoven plots, seasons that exist outside of the traditional fall/spring schedule—are driving the small screen to new creative heights. This is generally understood to be bad news for the broadcast networks in favor of their edgier cable-TV rivals, with one exception: For a change, people are watching the Emmys.
The 65th Prime time Emmy Awards show aired on Sunday on CBS and pulled in an estimated 17 million viewers, according to Horizon Media, earning the awards show its best ratings since 2005, when 18.6 million people watched. To be fair, the numbers may be slightly inflated: A Jets-Bill football game airing on CBS just before the Emmys ran into the award show's time slot. But it also likely that the Emmys lost a few viewers later in the evening when AMC started airing the penultimate episode of Breaking Bad, which pulled in an audience of 6.6 million (and also took home the Emmy for best drama). In fact, the only program to earn a larger audience than the Emmys was another NFL game, Bears vs. Steelers, that aired on NBC, claiming more than 18 million viewers.
The Emmys also did well on social media. A quarter of all viewers posted something about the awards to Facebook, according to The Wrap. The show also inspired more than 900,000 tweets, although it was dwarfed by the 18.5 million tweets that the MTV Video Music Awards stirred last month after Miley Cyrus twerked herself silly on stage.
Before it's here, it's on the Bloomberg Terminal.
LEARN MORE