Pilgrimage, Anyone? Green Mountain Coffee Is Opening a Keurig Store
by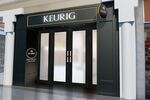 Green Mountain Coffee Roasters—cult coffee company, investor flashpoint, and maker of Keurig machines and K-Cups—is going retail. Its first Keurig store will open in early November in Massachusetts on the first floor of the Burlington Mall, a shopping center with such high-end retailers as Burberry, Coach, and Anthropologie.
Unlike Nespresso cafes, or even your local Starbucks, Green Mountain isn't out to sell lattes. Here's what's up:
The real aim is to gather consumer feedback. Green Mountain is building a new campus near the mall and will consolidate its Keurig offices there, probably sometime late next year. The company hopes to use the shop to learn about its customers, says Mark Wood, a senior vice president. Expect members of the marketing team to be at the new store.
It's not a café. Unlike the fancy Nespresso boutiques—where you can order a pricey coffee drink and grab a seat next to a wall of brewers and coffee pods that are for sale—this is not a food service outlet. The store will offer "on-site demonstrations, special promotions, new product offerings, and unique Keurig accessories," according to the release, but the intent is to sell products and gather consumer insights, Wood says.
Yes, you can get a free cup of coffee. In exchange, they hope, for a few minutes of your time. (It's like a mini time-share pitch, but for caffeine.) "As part of having a brewer experience, you wind up with free cup of coffee, but the intent of the store is not to be giving out free cups of coffee," says Wood. "For us, it's more about demonstrating the technology and educating consumers rather than creating another retail coffee shop concept."
The sales impact probably won't be huge. Green Mountain relies on retail giants such as Wal-Mart, which contributed 12 percent of the coffee company's consolidated net sales last year, and Bed Bath & Beyond, with an 11 percent share in 2011. The Keurig store is just one outlet, and it will be located 14 miles outside of Boston. While this metro area has a population of 4.1 million, residents with machines will probably continue buying the coffee pods from local retailers or supermarkets because the products won't be discounted at the Keurig store. "This is not a money-making venture or in competition with our retail partners. It's complementary," says Wood. "We want to learn from our consumers, get feedback and share it with our retail partners." There are no plans to open additional locations yet, he says.
Before it's here, it's on the Bloomberg Terminal.
LEARN MORE