McGill Cricket-Farming Idea Wins $1 Million Hult Prize
Louis Lavelle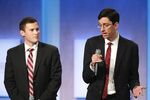 A McGill MBA team that has been embroiled in a dispute over ownership of the idea it entered into a prestigious business plan competition last night won the contest's $1 million grand prize.
The five-member team from McGill's Desautels Faculty of Management—one of six regional finalists among more than 10,000 competitors overall—made its final pitch on Monday to a jury that included Nobel Peace Prize laureate Muhammad Yunus and executives of the United Nations' World Food Program. Former President Bill Clinton awarded the group $1 million in startup capital for its idea to help improve access to cheap, nutritious food.
The idea: farming crickets for food and income. The group proposed a business model that involves distributing insect-farming technology—in countries where insects are already consumed for food—that enables breeding and harvesting amid sanitary conditions. Cricket-farming would create a year-round supply of high-protein, low-cost insects as well as generate income for farmers.
Jakub Dzamba, a PhD candidate in architecture at McGill who worked with the team earlier this year, claims ownership of the technology that was used by the team during the competition's regional finals in Boston in March. Dzamba, who says he came up with the idea in 2009, filed a report of invention with McGill in August 2012. The university subsequently filed a provisional patent declaring Dzamba the sole inventor.
The team disputes Dzamba's account, saying in a Sept. 10 statement that the group's entry was based on "internal team research," not Dzamba's ideas, and that Dzamba's work, which included renderings of a cricket farming kit, was "not material" to its win in Boston. Team member Jesse Pearlstein said in a Sept. 15 e-mail that the team had abandoned Dzamba's rendering after that win because it "no longer suited our objectives nor business model, which had evolved."
Team captain Mohammed Ashour declined further comment.
Dzamba criticized the Hult organization for awarding the prize to the McGill team, saying that as a student competition, it should "enforce basic academic rules, such as citing the work of others, or ensuring that fair credit is given where it is due."
The chief executive officer of the Hult Prize, Ahmad Ashar, said an investigation was conducted and the Hult organization  is "fully satisfied" that there were no violations of law or Hult rules by the McGill team at any point during the competition. He said the startup funds will be disbursed to the team following completion of an oversight process that includes final approval of the team's business plan.
Since June, the two sides have, with the help of McGill administrators, been trying to hammer out a resolution. So far, no agreement has been reached.
Join the discussion on the Bloomberg Businessweek Business School Forum, visit us on Facebook, and follow @BWbschools on Twitter.
Before it's here, it's on the Bloomberg Terminal.
LEARN MORE