MBA Careers Far From the Beaten Path
Francesca Di Meglio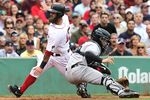 When it comes to careers, MBAs have a reputation for gravitating mainly to two industries: banking and consulting. But each year some MBAs—whether out of necessity or personal interest—seek employment far from those well-trodden career paths. If you'd rather not be pigeonholed into a banking or consulting career, plenty of industries and roles make use of MBA skills and might suit you better. Here are a few:
Sports is the name of the game, employing more than a few MBA graduates. There are mainstream MBA sports gigs, such as manager of business development at Major League Soccer, which is the role that Matthew Hill, a 2009 graduate of Columbia Business School, held until 2012. Strong communication and networking skills and strategic thinking and negotiating experience are helpful if you want this kind of job, Hill says. The starting salary ranges from $95,000 to $110,000. Hill has moved to the NFL, where he is now director of business development and strategy.
MBAs can also take non-traditional jobs in this non-traditional field. Jon Hay, a 2013 graduate of University of Chicago's Booth School of Business, works in baseball analytics for the Boston Red Sox, which incidentally just clinched first place in the American League East. Hay's job is to help the team use data to win baseball games, like the number crunchers portrayed in Michael Lewis's 2003 book, Moneyball: The Art of Winning an Unfair Game. This could mean valuing contracts and signing players or determining when to promote prospects, says Hay, who credits his participation in case competitions with gaining the visibility and experience that landed him the job.
While MBAs getting into real estate is not big news, most end up in real estate investment; you might be surprised to see them at architecture firms. Jeffrey Veffer, a 2002 graduate of Canada's Queen's School of Business and a partner at Incite Design, a Toronto-based firm. He earned an undergraduate degree in architecture at the University of Waterloo and had practiced for a few years before b-school.
Veffer, now focuses on the business side of things by handling most of the firm's on-site operations and project management. In addition, he deals with the digital side of content marketing and strategy and pursues advertising partnerships. Starting salaries range from $90,000 to $140,000, depending on the region and types of properties you are constructing.
Similarly, Ben Cober, a 2012 graduate of Indiana University's Kelley School of Business, is director of business development and research at PGAV Destinations, an architecture firm in St. Louis that designs theme parks, zoos, aquariums, museums, and elements they contain, such as shark tanks. Cober spends time on public relations, marketing, and research to help the firm's vice presidents engage clients. He is sometimes involved in client consulting projects. The starting salary for this job ranges from $60,000 to $90,000.
While plenty of would-be consultants can be found in business school, very few have business cards that list their job title as "small business fanatic." One who does is Hillary Shenk Berman, a 2003 graduate of University of Maryland's Smith School of Business who helps small business owners make better decisions in her role at Popcorn & Ice Cream, a small business consulting firm in Bethesda, Md.
Berman helps entrepreneurs and Main Street retailers make smart marketing decisions. Fees for such services range from $750 to $2,500 per month. "To succeed in working with small businesses," she says, "it takes a willingness to work hard for less than your Wall Street counterparts, all because you love it."
Join the discussion on the Bloomberg Businessweek Business School Forum, visit us on Facebook, and follow @BWbschools on Twitter.
Before it's here, it's on the Bloomberg Terminal.
LEARN MORE