Feds Investigate Early Trading Around Taper Announcement
By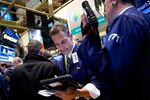 Last week, I wrote about the trading frenzy that accompanied the news that the Federal Reserve would not taper its $85 billion in monthly bond purchases.
A lot of the trading seemed to occur just before the announcement was made at 2 p.m., which means that speed traders were either making huge, gutsy bets that the Fed was not going to taper, or somehow word leaked early.
Regulators apparently noticed something similar.
According to Bloomberg News, the Federal Reserve is asking news organizations to review their procedures for publishing stories based on central bank releases. Every time the Federal Reserve's Open Markets Committee releases a statement, reporters in a locked room at the Treasury Department are given a sneak peek about 10 or 12 minutes beforehand, when Fed officials pass out an embargoed hard copy of the statement. Those reporters have to sign an agreement not to put the documents on the Internet or broadcast them.
According to my colleagues at Bloomberg News, that agreement does not address whether a news organization can load the information onto remote servers, which are often located near trading centers in Chicago or New York.
Before it's here, it's on the Bloomberg Terminal.
LEARN MORE