pursuits
Are NBA Nickname Jerseys Coming Soon?
By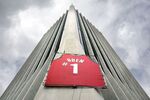 The National Basketball Association is reportedly considering letting players use nicknames on the back of their jerseys for at least one game next season, between the Miami Heat and Brooklyn Nets. Players, according to the Associated Press, have already been asked what names they would choose. LeBron James is said to be partial to "King James." His Heat teammate Ray Allen said he plans to wear "Shuttlesworth," in a reference to his character in the Spike Lee film He Got Game. The league declined to comment.
Nickname jerseys, even as a trial balloon, are another instance of the NBA's willingness to experiment with marketing. Last year the league talked seriously about adding sponsored patches to team jerseys, before backing away in favor of a plan to sell a slice of the court. These ventures have come under the guidance of incoming Commissioner Adam Silver, who, besides being less likely to shout at reporters than his predecessor, David Stern, appears more open to tweaking the league's product.
The jersey gimmick would produce a new batch of jerseys to sell to fans—and a batch of news stories (like this one) to go with them. "It's just a way to create a little more spin and sizzle around the game," says Allen Adamson, managing director at design and branding firm Landor Associates. "What you try to do is reinvent something every year, provide something new, or put a twist on things." Other sports leagues, Adamson says, should follow the NBA's lead: "Part of keeping sports fans engaged is to allow the personality of the stars to come through."
The NBA can probably get away with more novelty than its National Football League, Major League Baseball, and National Hockey League counterparts. Celebrity drives the sport. With fewer players in the game and less specialization among them, basketball makes the most room for individual creativity and brilliance. And NBA fans skew younger; they're less likely to make a fuss about sullied tradition. Still, the league can expect an earful about the letter "I" and its absence in the word "team."
"It's a balancing act," Adamson says. "You need to have three winners: the league, the team, and the star. If anyone's a loser in that combination, it's not going to be good for anybody. This seems like it would not upset the apple cart."
Before it's here, it's on the Bloomberg Terminal.
LEARN MORE