Yale MBAs Battle Over an Idea for a Golf Business
Louis Lavelle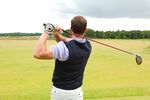 An MBA graduate of the Yale School of Management is suing a former classmate over a business idea they developed as students.
In the lawsuit filed last week in New York Supreme Court, Clinton Grusd claims that Salman Syed attempted to use their idea for a golf gadget to start his own, identical, business.
The original idea, developed with support from the Yale Entrepreneurial Institute, was for an electronic golf caddy that can locate golf balls, compile statistics, and ultimately improve a golfer's game. According to the lawsuit, the two 2012 grads agreed to be "50-50″ partners in the company, known as Dolphin Golf.
In 2012, Grusd says, Syed told him that he was seeking salaried employment for financial reasons and would not be able to focus on the business. But in 2013, Grusd says he learned that Syed and another defendant, Ammad Faisal, had formed a new company called Golfkick and obtained $4 million in financing from two other individuals to market the exact same idea.
Grusd, a former attorney who worked in the Justice Department's antitrust division, wants a 50 percent share of Golfkick, plus damages. Sayed did not return calls placed to Golfkick's offices in New Haven, Conn. Gerry Silver, the lawyer representing Grusd, declined to comment.
Grusd's lawsuit claims the idea for the business grew out of Syed's suggestion for a golf ball that could be tracked using an iPhone app, but that it was his own suggestion for using GPS to track statistics, such as average distance per club, that made the idea a winner. Grusd, a competitive endurance athlete and Ironman triathlon competitor, believed the product would "revolutionize" golf.
But in a Sept. 11 letter cited in the lawsuit, Syed maintained that he and Grusd were "not really partners" and that the idea for using technology to track the golfer's statistics wasn't Grusd's. Golfkick, Syed said in the letter, relies on technology affixed to the golf club, not the ball, and is therefor not the same as Dolphin Golf.
Join the discussion on the Bloomberg Businessweek Business School Forum, visit us on Facebook, and follow @BWbschools on Twitter.
Before it's here, it's on the Bloomberg Terminal.
LEARN MORE