The World's Oldest Bank Lives to Lend Another Day
by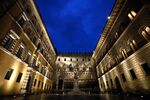 The world's oldest bank is extending its longevity by suspending payments on some of its debt—without triggering a default. Italy's Banca Monte dei Paschi di Siena, which was founded in 1472, received a €4.1 billion ($5.5 billion) government bailout. European authorities ordered the bank, as a condition for the aid from taxpayers, to impose some pain on some of its bondholders by suspending payments to them.
Ordinarily when a debtor stops making interest payments, it's considered a default that can push the company into bankruptcy court. But that's not the case with these hybrid notes, which weren't remotely conceived of in 1472. They're called undated, noncumulative trust preferred stock, and they're somewhere between debt (where payments are mandatory) and equity (where they're strictly voluntary).
Forcing bondholders to bear some of the cost of a bailout is known in the trade as a bail-in. "In the new world we're in, bondholders pick up the tab when they can be forced to," John Raymond, an analyst at CreditSights in London, told Bloomberg News.
The debt in question is $650 million worth of hybrid notes issued through MPS Capital Trust II and Antonveneta Capital Trusts I and II. Monte Paschi, as the bank is known for short, is allowed to suspend interest on the notes without being declared in default. Better yet, it doesn't have to catch up on missed payments when payments resume.
I asked Raymond whether it's fair to call the hybrid securities "debt," since they're pretty un-debt-like. He said it is: "They're very much part of the fixed-income market. They're treated as debt by most investors."
Before it's here, it's on the Bloomberg Terminal.
LEARN MORE