James Gandolfini Reveals That Grownups Are Ready to Watch Movies Again
By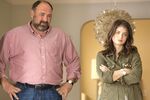 As the summer's apocalypse-palooza fades into memory, the weekend box office revealed that mature moviegoers may be ready to venture back into theaters. The Hugh Jackman and Jake Gyllenhaal kidnapping drama Prisoners grossed $21.4 million, despite a long running time and gloomy subject matter, and left the new 3D dance movie Battle of the Year in the dust. Seventy-two percent of Prisoners' audience was over 25, and they liked what they saw, giving it a B+ CinemaScore.
But despite winning the weekend's top spot, the kidnapping thriller was at least partially overshadowed by director Nicole Holofcener's Enough Said, a tender-hearted drama featuring the final performance from James Gandolfini, who died this summer. The film earned around $240,000 this weekend from only four theaters in New York and Los Angeles—an excellent per-screen average of $60,000.
Could fresh memories of Gandolfini's untimely passing have influenced viewer behavior? Possibly, though Enough Said was extremely well-reviewed. (One could make the comparison to The Dark Knight, in 2007, which got great reviews and was destined for success regardless of the passing of star Heath Ledger—but due to the tragic circumstances the movie seemed to benefit from the added weight of melancholy.) "Some of the pathos [of the film] is the accidental byproduct of seeing Mr. Gandolfini, so playful and alive, in one of his final major movie roles and feeling once again the loss of his remarkable gift," said the New York Times' A.O. Scott.
Indeed, so many critics praised Gandolfini's uncharacteristic performance as a good-humored romantic lead, suggesting that, after years of playing tough guys and authority figures, this softer type of role might have made for an even better match for the actor. But it wasn't a complete departure for him: Gandolfini had done more sympathetic, sensitive turns before, too, in indie films like Welcome to the Rileys and Not Fade Away, which crashed and burned financially. (He also did one of the lead voices in the offbeat children's film Where the Wild Things Are, another financial disappointment.)
Now, posthumously, it appears that his softer side finally connected with initial audiences. Could the run continue? Enough Said will expand to around 200 theaters next weekend, and more and more viewers will get a chance to decide what they think. Either way, though, it's a bittersweet triumph.
Before it's here, it's on the Bloomberg Terminal.
LEARN MORE