Greece Moves Back to Center Stage in Europe's Debt Drama
By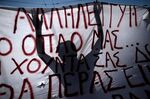 In a four-hour meeting with representatives of Greece's international creditors on Sunday, Finance Minister Yannis Stournaras had some encouraging news: Greece is expected to post a small budget surplus this year, and the economy is expected to contract 3.8 percent, less than the previously forecast 4.2 percent.
At the same time, the International Monetary Fund says the Greek government will face a €4.4 billion ($5.9 billion) funding gap next year and additional shortfalls in 2015 and 2016. Prime Minister Antonis Samaras is already signaling that more aid will be needed.
The reelection of Angela Merkel means that Germany, which has financed most of the €240 billion in aid pledged to Athens so far, is likely to continue insisting that Greece maintain strict budget austerity. Even though she will be looking for a new coalition partner—most likely either the Green party or the center-left Social Democratic party, the SPD—her approach to Greece isn't likely to change, according to economist Alex White of JPMorgan Chase in London. Merkel's bloc won 41.5 percent of the vote, which means the chancellor "will be negotiating from a position of strength," White says. "Given their weak position, we expect both SPD and Greens to focus more on domestic issues, and not to treat European differences as a deal-breaker."
Meanwhile, the streets of Athens are getting ugly fast. Riot police were called to break up recent strikes by school personnel, and support for the far-right, nationalist Golden Dawn party—implicated in the recent stabbing death of a young rap musician in Athens—is surging.
Potentially even more damaging, the Greek government is considering lifting a five-year-old moratorium on mortgage foreclosures that has prevented thousands of Greeks from losing their homes. Some 29 percent of loans on the books of Greek banks are nonperforming, threatening the lenders' solvency.
In Spain, mortgage foreclosures have spurred suicides and mass protests. If Greece is required to lift the moratorium as a condition of further aid, "it's not going to be easy," says Lefteris Farmakis, a London-based analyst at Nomura International.
Before it's here, it's on the Bloomberg Terminal.
LEARN MORE