Duncan Acknowledges That Tying Financial Aid to College Ratings Is No Easy Task
By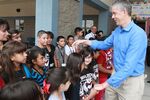 In late August, President Obama announced an ambitious new plan to tie federal financial aid to a college's performance. The first step in the push is creating new ratings for colleges based on such factors as dropout rates, how much debt students accumulate, and what graduates earn once they leave school. The announcement garnered much praise for focusing on the value schools provide but also more than a little concern by some colleges, questioning whether schools could fairly be compared with each other and whether the data required in the push even exist. If this isn't done right, they said, the government will see all kinds of unexpected problems crop up.
In a speech at a conference of college presidents hosted by Time magazine on Friday, Education Secretary Arne Duncan told them, in essence, to hold their horses. "To be absolutely clear, we have not even begun to develop the college rating system yet," he said. "I'm not sure how this is possible, but a few critics have already gone on the attack against a rating system they don't like but that doesn't exist."
He laid out a I-hear-you-loud-and-clear list of delicate concerns his office will juggle. "Believe me, we are all aware that if this is not done well, a college rating system could create unintended consequences and allow gaming of the system," Duncan said. The ratings will measure multiple factors, he said, including access, affordability, and the outcome of graduates. They'll also try to take into account the different missions each school has, so don't expect Harvard to be compared with a community college. That follows the model used in Tennessee, which was the first state to use performance measures to dole out funds.
Beyond broad philosophies, each individual metric will need to balance different concerns. Duncan listed a few examples: how to reward improvement and not just past performance; how to take into account the role that declining state funding—and not rising costs—plays in tuition increases; and how to measure schools on how much their graduates earn while still encouraging students to work in public service.
Duncan said his department will solicit ideas from researchers through meetings, hearings, and formal written requests for public comments. Despite the breadth of the change, Duncan says he doesn't want the quest for a perfect solution to drag down the process. "I reject the idea that the value of a college education is so elusive, so inexpressible that no rating system can ever meaningfully help consumers determine its value," he said. The administration still wants to release the rating system by the end of next year, and then—if it can get congressional approval—use scores to mete out funding starting in 2018.
Before it's here, it's on the Bloomberg Terminal.
LEARN MORE