Merkel Has a Mandate. But What's Her Vision?
by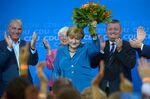 On the stump, Angela Merkel hammered on the importance of European unity. "We want a strong Europe, a successful Europe," she said in an election-eve speech. "Stabilization in Europe is in the fundamental interest of Germans."
Merkel's Christian Democratic Union won 42.5 percent of the vote today, a few votes shy of an absolute majority and the best showing in 20 years for her conservative party—particularly remarkable considering that a day before the election, roughly one in three voters were still undecided. In the end, Germans gave Merkel the go-ahead to pursue her vision for Europe. But what exactly is that vision?
While Merkel is committed to maintaining the existing economic and monetary union, she's dead set against sweeping measures, such as a European banking union and pooling of European countries' sovereign debt, that would move the region toward deeper integration.
Merkel's not keen on ceding power to European bureaucrats, either. She has said she sees no need to give more authority to Brussels, and German media outlets have reported that she may seek more direct agreements between member states, rather than going through Brussels.
"The Germans have zero appetite for policies that deepen European integration," analyst José Ignacio Torreblanca of the European Council of Foreign Relations, wrote in the Spanish newspaper El País last week. "It is hard to expect that this new government will take the lead in any initiative to reform the treaties that would set the EU onto a path towards a federation."
Merkel's approach toward strengthening Europe is likely to remain as cautious, pragmatic, and austerity-driven as it has during the past three years, as Germany has ponied up most of the €496 billion ($671 billion) funneled to crisis-hit euro zone economies.
Some other European leaders may not like that. But few can boast the low unemployment and healthy public finances that Germany enjoys under Merkel—or the level of popular support she so clearly demonstrated on Sept. 22.
Before it's here, it's on the Bloomberg Terminal.
LEARN MORE