The NFL vs. Ticket Scalpers: Super Bowl Edition
The best seats will start at $2,600. That's not where they will stop.
By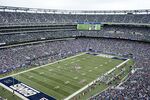 The National Football League announced this week that the most expensive seats for the 2014 Super Bowl at MetLife Stadium in New Jersey would go for $2,600. That's up from $1,250 for the top seats at last February's game in New Orleans. The bump not only reflects the relative size and wealth of the New York market; it also represents an attempt by the league to cut into the profits of ticket scalpers. "We are looking to close the gap between the face value of the ticket and its true value as reflected on the secondary market," league spokesman Brian McCarthy told reporters.
But ticket sellers don't appear to be too worried. "I can't blame them for doing what they did," says Jason Zinna, a partner at Inside Sports & Entertainment Group, an agency that specializes in hard-to-get tickets for rich clients. "Are they closing the gap with the secondary market? Sure. Is there still going to be room for the secondary market to make money? Of course."
Zinna, who says Inside Sports handles about 2,000 Super Bowl tickets every year, expects ticket brokers to follow the NFL's lead in raising prices: "If somebody was going to spend $4,000 for a ticket, will they now spend $4,500 or $5,000? I'm pretty sure they will." The gap between face value and actual price, he says, will probably narrow more at the middle and bottom end of the market.
So what would it take for the NFL to really eat scalpers' lunches? According to secondary market search engine SeatGeek, the top club seats at the Super Bowl in New Orleans went for an average of $5,122. The year before that, in Indianapolis, the best seats went for $7,733. And in 2011 at Cowboys Stadium, for $7,967. Zinna says an open auction for MetLife seats would likely go as high as $8,000 to $12,000. "The anticipation going in from six months ago to now is definitely the greatest that I've seen in recent years," he says.
Before it's here, it's on the Bloomberg Terminal.
LEARN MORE