The Creative Minds Behind the Ghoulish New Anti-Obamacare Ads
By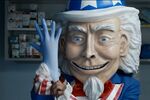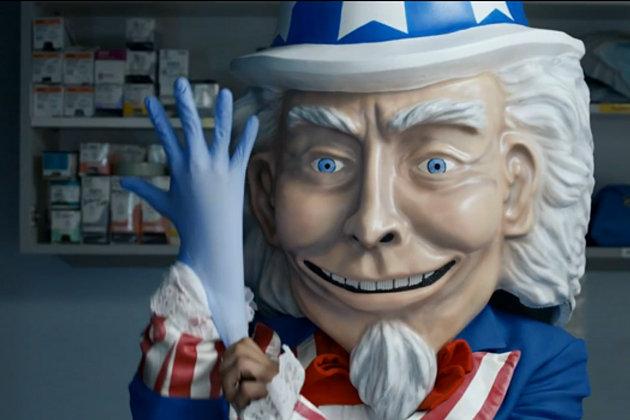 The Obamacare ad wars just hit a new level of absurdity.
In recent weeks, with time ticking down until the health-care law's insurance marketplaces open up, states across the country have been reaching out to consumers trying to persuade them to sign up for the insurance exchanges, using commercials brimming with all kinds of wacky scenarios, including marauding raccoons and Paul Bunyan on water skis.
Now, the anti-Obamacare folks are striking back. On Thursday, Generation Opportunity, a Virginia-based conservative organization funded in part by Charles and David Koch, unleashed a campaign complete with body-cavity searches and a character known as Creepy Uncle Sam.
In the first ad, dubbed "The Exam," a young woman who has signed up for Obamacare arrives at a medical facility and changes out of her clothes and into a flimsy hospital gown. Following the instructions of a doctor, she reclines on a hospital bed and spreads her legs into a pair of stirrups. The doctor leaves the room. Then, suddenly a mascot wearing a plastic Uncle Sam mask and sporting an unwavering grin—Creepy Uncle Sam!—pops up between her legs. As she screams, the ad pans out. "Don't let government play doctor," reads the kicker.
A second spot, entitled "The Glove," follows a similar narrative arc. A young man sits in an examination room and tells a doctor that he's signed up for Obamacare. "I saw the ads and figured, why not?" he says. "Okay," says the doctor. "Take your pants off." The man drops his trousers, reclines on the hospital bed, and brings his knees to his chest. The doctor leaves the room. Behind the young man, Creepy Uncle Sam pops up, raises his hand into the air, snaps on a latex medical glove, and wiggles his fingers menacingly.
The message is effectively communicated, if not particularly subtly. It's one part Kool-Aid Man, one part Bad Santa.
Evan Feinberg, the head of Generation Opportunity, says the two ads are part of a broader campaign aimed at young, uninsured millennials who need to decide whether to opt in or opt out of Obamacare. The ads are the end result, he says, of a month-long "creative and collaborative process" among the organization's young staffers.
"Government in the exam room is not something that young women or young men are comfortable with," says Feinberg, 29. "So we decided to come up with a creative ad to tell that story."
Enter Creepy Uncle Sam.
"We were trying to figure out how to personify government in the exam room," he says. "The idea is that Uncle Sam is a very patriotic figure. We certainly don't want to undermine that in any way. It's when he gets creepy that people should push back. Creepy Uncle Sam was sort of the fun idea that we came up with."
The ads have already racked up more than a million views on YouTube. Feinberg says Generation Opportunity has gotten lots of positive feedback and is now considering expanding the campaign. As of yet, there are no plans, he says, to buy television airtime, although Hulu might be a possibility.
According to Feinberg, since Creepy Uncle Sam made his debut, he's been drawing comparisons to the "Creepy King" mascot that ad agency Crispin Porter + Bogusky created on behalf of Burger King.
Any creative similarities are unintentional. "At the end of the day our creative was driven by the message, rather than the other way around," Feinberg says. "Nobody said to themselves, 'Well, we really love the Burger King guy, maybe we can make a character that looks like that.'"
Before it's here, it's on the Bloomberg Terminal.
LEARN MORE