Steven Cohen's Other Legal Problem—From His Ex-Wife—Takes a Turn
By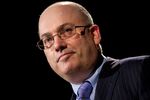 U.S. District Judge William Pauley has thrown a chit in the direction of Steven Cohen's former wife, Patricia, agreeing to allow her to file an amended complaint. The case against her former husband, the founder of hedge fund SAC Capital, was first filed in 2009 and described SAC as "the product of an ongoing racketeering scheme" that engaged in insider trading, money laundering, and bank fraud. The case was dismissed in 2011 on the basis that Patricia had waited too long to make her claims, but it was reinstated by an appeals court in April at the height of negative headlines swirling around Cohen and his hedge fund.
"The world is going to end some day, and my job is to make sure this case ends before that day comes," Judge Pauley said on Thursday, displaying his trademark combination of wit and irritation. Pauley added that no further amendments to the charges would be allowed.
Steven Cohen has denied the charges, and his spokesman, Jonathan Gasthalter, has previously said: "These decades-old allegations by Mr. Cohen's former spouse were patently false and entirely without merit. We will continue to defend against them vigorously."
Patricia Cohen's lawyers filed a response to Cohen's motion to dismiss the suit on Sept. 12. Close watchers of the case may have noticed a new name that appears on the brief: G. Robert Blakey is listed as "of counsel." Blakey, a professor emeritus at Notre Dame Law School, is a prominent expert on the Racketeer Influenced and Corrupt Organization Act, or RICO, which Patricia Cohen invokes in her case against her husband.
Blakey helped draft the RICO legislation that became law in 1970. The law was originally aimed at the mafia but has since been applied to various forms of organized crime. His involvement in the case presents an intriguing new twist in the narrative.
Before it's here, it's on the Bloomberg Terminal.
LEARN MORE