Should Lincoln, Ford's Legendary Luxury Brand, Head to the Scrap Heap?
by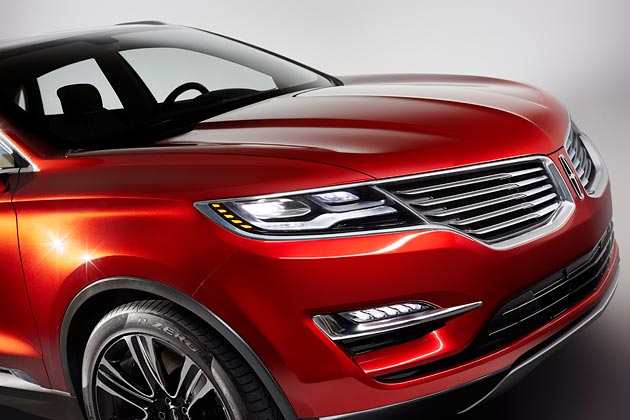 It's decision-making time at Ford: Cough up a few billion dollars to overhaul its 95-year-old luxury brand or park it for good? Because the current course for Lincoln doesn't seem to be going anywhere.
This year through August, Ford sold 53,400 Lincolns in the U.S., 6 percent fewer than in the same period last year. In any other time, that wouldn't be a crisis, but Americans have seldom been so eager to buy cars. The rest of its lineup, Ford posted a 14 percent increase in vehicle sales. Meanwhile, General Motor's Cadillac, Detroit's other blue-chip brand, revved up a 32 percent sales gain.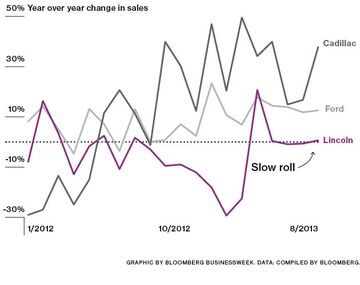 In short, Lincoln has failed to pick up speed, despite a huge economic tailwind and an industry with the accelerator floored. "At the moment, it looks very marginal," says Bill Visnic, Edmunds.com senior analyst. "The brand is exhausted, and what they're putting out there is not worthy of carrying a luxury tag."
This was supposed to be Lincoln's big year. In December, it changed its moniker to the throwback "Lincoln Motor Company." It primed the market with an expensive (albeit kind of weird) Super Bowl ad channeling the long-dead president of the same name. Its executives used every opportunity to crow about how "committed" they were to making Lincoln cool again. And in April Ford launched its new MKZ, the model that was supposed to zip Lincoln back into the luxury race with Cadillac, BMW, and Mercedes.
The problem is that the MKZ is mostly a Ford Fusion with a different logo and some fancy design elements, according to Visnic and other analysts. This is what is referred to in the industry as "badge engineering": retooling the face of the brand without drastically overhauling its guts—the frame, drive-train, and all the other expensive and critical infrastructure of a car.
"With premium, rear-wheel drive is building block No. 1," Visnic said. "Lincoln is still trying to push gussied up versions of front-wheel drive Ford cars."
Sales of the new MKZ are up 24 percent since it hit dealerships in August. Not shabby at all. But in that time, U.S. buyers snapped up 36 percent more BMW 3-series sedans than they did in the year-earlier period.
Even Ford acknowledges the Lincoln needs work. J Mays, the company's design chief, said last month Lincoln is "not true luxury."
According to Bloomberg Industries auto analyst Kevin Tynan, a luxury brand needs to sell about 200,000 vehicles a year to be viable. Lincoln won't hit half that level this year. "For it to succeed, everything down the line needs to say 'You can't get this in Ford,'" Tynan said. "That's going to take money and it's not going to be drips and drabs."
In short, the future of Lincoln boils down to two questions:
1) Does Ford need a luxury brand?
At the moment, the answer is probably "no." Thanks to big design changes and vast improvements in engine efficiencies, Ford is selling tons of trucks and quite a few cars aimed at the middle of the market, most notably its Focus, Fusion, and Escape models. Still, car companies leave money on the table when they don't have high-end models for loyal drivers to trade up to. At the moment, the Taurus couple that gets the kids through college and finally has some money is kicking the tires of Cadillacs and Lexuses. (Lexi?) Which brings us to the second question.
2) Is Ford driving Lincoln for the long haul?
It depends who you ask. The shortcuts Ford took on the latest Lincolns suggest "no," but the company is in far better shape and has a lot more resources now than it did four years ago, when it started making decisions on the current Lincoln line. Ford spokesman Sam Locricchio says the company "remains absolutely committed" to making Lincoln a world-class luxury brand and is encouraged by sales of the new MKZ. At the same event at which Mays said Lincoln isn't "true luxury," he noted that the company plans to keep pouring money into the brand. "We've probably got a 10-year investment to make."
Visnic, meanwhile, remains skeptical. Show me the money, he said: "Unless there are a lot of zeros involved, it's just window-dressing."
Before it's here, it's on the Bloomberg Terminal.
LEARN MORE