Taking Inspiration From Sheryl Sandberg, Beijing Starts to 'Lean In'
Christina Larson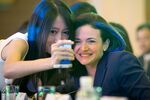 Zhang Jingru, a petite college junior with a stylish bob, didn't know what to expect when she turned up at a popular pizza restaurant on Aug. 25 for the launch of Lean In Beijing, a new women's professional development group inspired by the bestselling book Lean In by Facebook's chief operating officer, Sheryl Sandberg. But Zhang left inspired.
As a journalism major at Communication University of China, Zhang had already noticed that one of the trends Sandberg describes is true in both the U.S. and China: Although most of the students in her department are women, the vast majority of leadership positions in Chinese media are held by men. She and many of her female peers had often wondered: What happens along the way? Nor is the media industry unique in China as a field where women lead in the classroom, but not in the real world.
According to the government-led All China Women's Federation, urban Chinese women in 2010 earned 0.67 renminbi for every 1 renminbi men earned, and rural women earned 0.56 renminbi. What's worse is that the gender pay gap is actually increasing in China. In 1990, urban Chinese women earned earned 0.78 renminbi for every 1 renminbi men earned, and rural women earned 0.79 renminbi. (In the U.S., women now earn 77¢ for every $1 that men earn.) Meanwhile, Chinese women also hold a diminishing number of seats on corporate boards, according to the All China Federation of Trade Unions. In 2005, women held 43 percent of board seats in China, while in 2011 they held just 32 percent.
Diverse reasons are behind the disparity: Chinese women are expected to marry young and to earn less than their husbands, lest they upset social conventions; The KTV and liquor-laden elite business circles are difficult for women to break into and feel comfortable in; women are far more likely than men to take time off work to raise families; they may choose careers in field with less compensation; and women sometimes face outright discrimination in China, as job ads specifying preferred gender and height (as well as attractiveness) are common and legal.
Zhang says she only recently learned of Sandberg's book, but "when someone popped the idea of having a circle of our university girls in Beijing, I immediately said yes." That circle is part of Lean In Beijing, which now has a couple of dozen members in China's capital. Mengfei Chen, another Lean In Beijing member who works in event organizing, points out that many young people in China struggle to apply their parents' advice to their own situations. "They didn't get to choose their majors, and they were assigned to their first jobs right out of school," she says. "There are so many more choices now."
Lean In Beijing is just getting started, but its founding members got a big psychological boost when Sheryl Sandberg met with them on Sept. 12 during her recent trip to China. Facebook's COO was in Beijing to both promote her book and meet with government officials about the company's future prospects in China. (The social network remains blocked in mainland China.) Afterwards, Sandberg wrote on her own Facebook page: "One thing holds true in every country in the world, which is that men greatly outnumber women in leadership positions and gender biases run deep."
At the same time that a majority of women in China do not receive equal opportunities for advancement and pay as their male colleagues, there are dogged exceptions. As the recently released 2013 "Hurun Rich List" shows, half of the world's 28 self-made female billionaires hail from China.
Before it's here, it's on the Bloomberg Terminal.
LEARN MORE