Sears Stretches Lands' End Clothing Across Oceans
By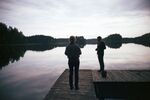 Sears, the long-struggling department store synonymous with Middle America, is feeling a little Continental. The company's Lands' End apparel brand just updated its Web platform to spur sales in 170 countries, from Brazil to Belgium.
Lands' End sells separately from other Sears products and was already processing global orders, but only in English and without tacking on extra fees for duties and customs. The new platform, run by a company called Borderfree, will recognize the location of Web shoppers, welcome them in their native language, and crunch relevant charges into a single price in one of 60 local currencies.
In particular, shoppers in Australia and Russia have been keen on the clothes, says Carl Atwell, Lands' End's vice president in charge of international business development. "What we've never really done is figured out who these customers really were," he says. "The opportunity here for us was about improving that international experience."
Its remarkably low-hanging fruit for a major apparel brand, and Sears itself made similar upgrades to the rest of its e-commerce platform some time ago. But some surprisingly large U.S. retailers have only recently begun trying to dial up business abroad. J.Crew, for example, which has monthly sales around $200 million, just tapped Borderfree earlier this year to buttress its sales abroad. Perry Ellis, the apparel giant behind the Penguin brand, didn't start shipping overseas until this spring.
"There is definitely a land grab happening," says Kris Green, Borderfree's chief strategy officer. "There are a lot of countries around the world where e-commerce is immature. U.S. retailers being really good at e-commerce are seeing a market-share opportunity." Green estimates roughly 20 percent of Web traffic for most U.S. retailers is coming from outside the U.S., and Borderfree woos clients by promising to turn about half of that browsing into sales.
Lands' End, meanwhile, is hoping to triple or quadruple sales outside the U.S., according to Atwell, who declined to detail how much business the brand currently does abroad.
Whether foreigners will buy stuff from Sears, however, is another question. Do shoppers in, say, Egypt want a sweatshirt that says "Wisconsin"? The only international business of note in Sears's recent financial reports is the 12 percent of sales the company gets from Canada—and Sears has had more than enough trouble selling products at home.
Before it's here, it's on the Bloomberg Terminal.
LEARN MORE