Priceline Joins the Elite $1,000-Plus Club
The travel site flirted with a $1,000 share price once before, at the height of the dotcom bubble.
by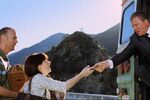 "Congratulations to @Priceline on their stock price," William Shatner tweeted in August. "Wish I hadn't sold my stock all those years ago."
Shatner, the travel site's longtime advertising pitchman, is probably thinking the same thing again today. Shares of Priceline are trading above $1,000, one of just nine U.S. companies above that level and the only one in the Standard & Poor's 500-stock index. The Norwalk (Conn.) company has been at this altitude before, reaching $974.25 on April 30, 1999, near the height of the dotcom bubble—before losing 97 percent of its value in the ensuing crash.
A 1-for-6 reverse stock split in 2003 helped the company drive up the price of its shares; today, just five companies in the S&P 500 have fewer shares outstanding. That list includes Chipotle Mexican Grill and The Washington Post Co., which for years had Warren Buffett on its board. Buffett famously opposes stock splits as gimmickry that don't reflect the underlying value of a company. (You can split a burrito in half and charge 50 percent for each side, or sell two burritos at double the price, but you're still talking about the same content of Mexican food.)
Priceline has gained more than 60 percent this year, outpacing the S&P index's 20 percent rise, by focusing on international bookings. In May it closed a deal to acquire travel rival Kayak for $1.8 billion.
Among S&P 500 companies, Google is the next priciest listing, at $898. Apple, which many investors had once thought would be the next stock to cross the $1,000 threshold, is fifth, at $472.
Before it's here, it's on the Bloomberg Terminal.
LEARN MORE