Pepperidge Farm's Richest Cookies, Ranked by the Wealth of Their City Namesakes
by and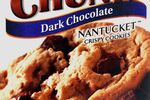 Before there were Nantucket and Tahoe cookies, Pepperidge Farm baked dainty biscuits with fancy-sounding European names, like Bordeaux, Geneva, and Brussels. When the Norwalk (Conn.) company introduced its so-called American Collection in 1986, it gave the much bigger (of course) cookies the names of fancy-sounding U.S. cities. "Popular vacation destinations," in the words of Pepperidge spokeswoman Geri Allen.
Today, the chocolate-and-macadamia Sausalito is the best-selling variety from the American group. One minor mystery is the Lexington, added to the lineup in 2011. The company has never confirmed which Lexington—Massachusetts or Kentucky—is the namesake of the chocolate-toffee-almond confections. Considering the cookie maker's fascination with tony towns, the safer bet is Lexington, Mass., where the median household income is $136,610. Despite its many virtues, including the University of Kentucky, the other Lexington has a less-affluent median income of $48,306.
Once you get past the baffling idea that a bunch of cookie executives think of the Boston suburbs as a vacation destination—maybe they're Revolutionary War buffs?—it becomes evident that Lexington, Mass., isn't just wealthier than its Bluegrass counterpart; it's the most well-heeled town in Pepperidge Farm's current American cookie line. Take that, Sausalito. Here's how Pepperidge Farm's chosen vacation towns stack up in median household incomes. Plus, a look at which cookie ingredients—from toffee to pecans—are correlated with higher-income cities. (Note that some ingredients, such as milk chocolate, appear in several cookies.)

Before it's here, it's on the Bloomberg Terminal.
LEARN MORE