Head for the Mountains (of Westeros): The Rise of Game of Thrones Beer
by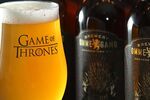 Game of Thrones lovers who have a weakness for craft beer can raise their glasses in celebration. The Cooperstown (N.Y.)-based brewery Ommegang has announced a state-by-state rollout of Take the Black Stout, its second beer inspired by the HBO medieval fantasy full of intrigue, swordplay, and sexual conquests.
If two kitschy beers hailing from the far-off land of Westeros seem like geek overload, know that many of the liquor stores, beer distributors, and bars that carried Iron Throne, a blonde ale released in March, were cleaned out. "We only got six cases," says Graham Haverfield, beer director at the Wine Library in Springfield, N.J. "I don't think the distributors knew, or the brewery for that matter, knew how it would be received. It just went like gangbusters."
This meant Haverfield had bad news for latecomers who wanted to merge their viewing and drinking passions. "There were a lot of people who were going to buy cases for Game of Thrones viewing parties," he says. "We had to disappoint a lot of customers. We just ran out of it. I was hearing stories from my [sales] reps. They said all these bars were coming out of the woodwork that had never carried Ommegang ever. Now they wanted as much of this beer as they could get."
Haverfield felt the pain of his GoT-addicted customers. He's a devoted fan himself and has even read the Game of Thrones books by George R.R. Martin. Haverfield has yet to personally sample Take the Black Stout, inspired by the Night's Watch, a black-garbed military group on the show that guards the icy Wall protecting the Seven Kingdoms from their northern foes. "I'm certain the Lannisters aren't drinking it," he says, referring to the aristocratic family that plays a key role on the show. "They're very disdainful of the Night's Watch."
Then again, Haverfield says the diminutive Tyrion Lannister, whose copious appetite for booze and sex are frequently documented on the series, would probably make an exception for Take the Black Stout: "He would probably drink it. He would drink anything you put in front of him."
Game of Thrones watchers are apparently more discerning, but they'd better act quickly this time if they don't want to be stuck with Bud Light when the show's new season starts. Haverfield is hoping to reveive 12 cases of Take the Black Stout, scheduled to arrive in New Jersey on Oct. 1. But given the thirst for Game of Thrones beers, he's not sure he'll get it. "I'll believe it when I see it," he says.
Before it's here, it's on the Bloomberg Terminal.
LEARN MORE