pursuits
Jargon Watch: Why Is Everyone So Laser Focused?
By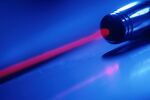 Ever since our recent story about the growing popularity of the phrase "laser-focus" in the C-suite, we have been—well, let's just say unusually attentive to the phrase when it pops up in the wild. Today, in an open letter to All Things D readers, Kara Swisher and Walt Mossberg explained what will happen after they split their tech news site from their longtime partner, the Wall Street Journal:
While we can't give any details yet—and there are details—you can assume that this new independent business will be laser-focused on continuing and extending Web journalism and conference journalism with the highest standards.
Rest assured, they are have plenty of company. Corporate executives have used the phrase "laser-focused" in more than 250 earnings calls and investor events this year, on pace to beat the 287 recorded instances of laser-focusing on record in 2012.
"It's business jargon," says L.J. Rittenhouse, chief executive of Rittenhouse Rankings, who consults with executives on communication and strategy. "What would a more candid disclosure be? 'We are focused.' What do lasers have to do with it?"
On the other hand, given the option of laser or no laser, why not go laser? Nothing invokes fearsome power like a sophisticated heat beam.
Before it's here, it's on the Bloomberg Terminal.
LEARN MORE