Rupiah Has Best Week This Year as Fed's Inaction Spurs Inflows
Yudith Ho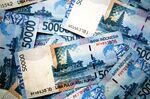 Indonesia's rupiah was set for the biggest weekly gain of the year and government bonds advanced after the Federal Reserve unexpectedly maintained stimulus, spurring demand for emerging-market assets.
Global funds bought a net $96.4 million of local stocks yesterday, a day after Fed Chairman Ben S. Bernanke said the U.S. central bank was concerned rapid tightening may hurt the world's largest economy. Foreign investors added 3.1 trillion rupiah ($280 million) to local-currency sovereign debt holdings since Bank Indonesia raised the reference rate on Sept. 12 to stem inflation, the latest finance ministry data show.
"No tapering from the Fed reduced demand for dollars," said Nurul Eti Nurbaeti, Jakarta-based head of treasury research at PT Bank Negara Indonesia. "The central bank's responsiveness with raising interest rates in preempting inflation will see inflows return to Indonesian assets."
The currency strengthened 0.5 percent this week to 11,351 per dollar as of 4:24 p.m. in Jakarta, the best performance since November 2012, prices from local banks show. It dropped 0.6 percent today.
One-month non-deliverable forwards rose 1 percent from a week ago to 11,158. The contracts fell 2.1 percent today and were 1.7 percent stronger than the spot rate, after trading 2.5 percent weaker on average in the past month.
One-month implied volatility, a measure of expected moves in the exchange rate used to price options, slid 175 basis points this week to 16.69 percent, data compiled by Bloomberg show. A fixing used to settle the rupiah forwards was set at 11,011 per dollar today, from 11,174 on Sept. 13, according to the Association of Banks in Singapore.
Carry Trade
The rupiah is delivering the worst carry trade returns among 23 emerging-market currencies tracked by Bloomberg, with Barclays Plc saying volatility will remain high because of the nation's current-account deficit and the prospect of the Fed reducing stimulus later this year. Bank Indonesia raised borrowing costs by 1.5 percentage points this year to 7.25 percent to quicken an improvement in the current-account shortfall, which was a record $9.8 billion last quarter.
The nation can't delay reforms on infrastructure, labor and permits as well as on improving the investment climate to boost employment, central bank Governor Agus Martowardojo said in Jakarta today. Indonesia will be ready when the Fed cuts its monthly bond purchases, he said.
"The government still has homework to do to narrow the current-account deficit, which will take some three to six months to improve," said Nurbaeti. "The currency will still fluctuate as issues pressuring the rupiah haven't been completely resolved."
The government's 5.625 percent bonds due May 2023 gained for a second week, sending the yield down by 43 basis points, or 0.43 percentage point, to 7.92 percent, according to prices from the Inter Dealer Market Association. The yield was 7.90 percent yesterday, the lowest level since Aug. 14.
Before it's here, it's on the Bloomberg Terminal.
LEARN MORE