India Tries to Curb Its Gold Appetite
by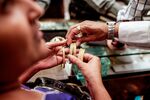 For many Indians, there's one certainty when it comes to investing: Buy gold. India is the world's biggest importer, purchasing 863 tons of gold last year, according to the World Gold Council. India's gold imports were 28 percent of global gold purchases in 2012, ahead of China's 830 tons, or 26 percent.
But as India struggles with a lackluster economy, all that money flowing out of the country to purchase gold bars or jewelry is putting a strain on India's current account deficit, which hit a record $87.8 billion in the fiscal year ended March 2013. Goldman Sachs and HSBC are among the banks that have lowered their growth predictions for India's economy, with both adjusting their forecasts to just 4 percent GDP growth for the 2013-14 fiscal year. At the same time that economic growth is falling, Indian inflation is worsening: The wholesale price index rose 6.1 percent in August from a year earlier, the government announced on Sept. 16. That was worse than the 5.79 percent in July and the 5.7 percent median estimate of 25 analysts surveyed by Bloomberg.
To be sure, the news isn't all bad, since the currency has recently reversed its summer swoon. Still, the country's economy remains in danger. "India has entered a stagflationary stage," Bank of Baroda economist Rupa Rege Nitsure told Bloomberg News.
As a result, there's even more urgency to solving India's gold problem. One way is to reduce demand by making gold imports more expensive. Having already raised tariffs three times this year, the government took another step to decrease demand on Tuesday, raising the tax on gold jewelry imports to 15 percent, up from 10 percent.
Another option is to tap the supply of the precious metal already in the country. There are over 35,000 tons of gold in India, estimates Jamal Mecklai, chief executive of forex and risk-management company Mecklai Financial Services, in Mumbai, and some of the biggest holders are Hindu temples. Putting some of those reserves into banks would reduce imports and provide depositors with cash.
The managing director for India at the World Gold Council, Somasundaram PR, sees the benefits of getting some of the country's gold back into circulation. "Monetizing gold is actually the way forward," he says. "We need to monetize a part of this gold to fund economic growth." That monetization could include the gold held by Hindu temples. "Temples need money," he says. "It's not that temples can be run without money."
Hindu nationalists opposed to the government of Prime Minister Manmohan Singh have said the government shouldn't look to temple gold, but Mecklai remains hopeful. "We have this great asset," he says. "If we can monetize it, it can address huge problems. Some people say this is crazy, you shouldn't touch the temples, but when something makes sense, it usually happens."
There are other ways to monetize India's gold holdings without targeting the temples, argues T.V. Mohandas Pai, formerly the chief financial officer of IT services company Infosys and now the chief adviser to the Manipal Education & Medical Group and co-founder of venture capital fund Aarin Capital Partners. Better for the government to cut taxes and make it easier for people to sell their jewelry and bullion without having to pay capital gains of about 20 percent, argues Pai, who also advocates reforms to make it easier for Indians to guy gold exchange-traded funds and other investment vehicles. If the government abolishes the tax, "you can expect 150 to 200 tons to come into the market" each year, he says.
Before it's here, it's on the Bloomberg Terminal.
LEARN MORE