In Germany, Candidates Run Only One TV Ad
By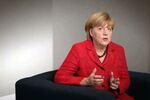 During the 2012 U.S. presidential election, Mitt Romney and Barack Obama ran hundreds of television ads, all carefully targeting specific viewers—especially those in swing states. In Germany, which will hold parliamentary elections on Sept. 22, political advertising could hardly be more different: Each party runs only a single minute-and-a-half political TV ad.
"Germans are not really into gimmicks, so they don't spend a lot of money on ads," says Sudha David-Wilp, a senior transatlantic fellow with the German Marshall Fund. "And in fact, the biggest outlay in a political campaign is usually a billboard, believe it or not."
Germany's refreshing dearth of political ads is due, in part, to regulations. Each party gets a certain amount of airtime on the country's two public networks, ZDF and ARD, explains Politico. The allotted time is based on the party's vote during the previous election, and on the number of members in the party. The two big parties, the CDU and the SPD, get to run their ad eight times on each channel, while the Greens, the Free Democratic Party, and the Left Party run their ads just four times on ARD and ZDF.
"Parties can buy additional spots on private television channels, though their limited campaign budgets keep them from spending anywhere close to the level of U.S. candidates," writes Emily Schultheis in Politico. "President Barack Obama and GOP candidate Mitt Romney ran billion-dollar campaigns last year; in Germany, by contrast, each of the major parties expects to spend about $26 to 33 million for the entire campaign."
And while it seems that this system punishes underdog parties, David-Wilp points out that the ad time gives more attention to the big parties simply because "there's no way that the FDP or the Greens would be able to get enough critical mass to call the shots."
Germany's center-right Christian Democratic Union TV spot this year cashes in on Angela Merkel popularity, simply showing the chancellor in a red suit talking about becoming, "Gemeinsam erfolgreich," or "Successful together." The SPD's ad shows everyday Germans talking at podiums about their goals for the country; Merkel's competitor Peer Steinbrueck appears at the very end. Both ads are calm and unobtrusive. There's none of the drama and histrionics of America's political circus.
In Germany, each political campaign season is also short-lived. This year, campaigning began in August but only really got going with the first debate between Merkel and Steinbrueck, which was held on Sept. 1. "The irony here is, I think, there's almost more interest outside of Germany about what's going on than there is [in Germany]," says David-Wilp of the German Marshall Fund. "People here know there's a vote, but it doesn't seem like there are any burning issues."
Germans aren't spared only from the bombardment of political ads. They also don't have to deal with robocalls, direct mail, or micro-targeting, says David-Wilp. "The funny thing is that the SPD tried knocking on doors this year, which is apparently a novelty for the German voter," she says. "They adopted that from America."
Before it's here, it's on the Bloomberg Terminal.
LEARN MORE