pursuits
'Endless' Meals Make for Lean Times at Olive Garden, Red Lobster
By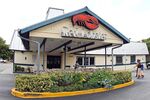 All-you-can-eat shrimp, pasta, soup, and breadsticks apparently wasn't enough to sway thrifty diners this summer. Darden Restaurants, the company behind the Olive Garden and Red Lobster restaurant chains, served some up decidedly unappetizing numbers with its quarterly earnings announcement this morning. Sales at Olive Gardens open more than a year dropped 4 percent, while Red Lobster saw a 5.2 percent drop in same-restaurant sales. It wasn't that diners were filling up on cheap items and all-you-can-eat offers—they weren't coming at all. Both chains welcomed 8 percent fewer customers in July than they did in the same month last year.
Darden Chief Executive Officer Clarence Otis said the restaurants actually did fairly well relative to the overall casual-dining sector. "Obviously it was a difficult quarter for us," he said on Friday's conference call. "We've concluded that as the sluggish and uneven economic recovery we've been experiencing for some time now persists, we can expect appreciably greater sales volatility in our industry." Thanks to restaurant openings, however, Darden's total sales increased 6 percent to $2.2 billion, even as profit slid 37 percent to $70 million. Along with vanishing customers, blame rising food prices and aggressive discounts—all that "endless shrimp" adds up.
The one bright spot for Darden was its LongHorn Steakhouses, which increased sales per location by 3.2 percent and saw more foot-traffic in every month this summer. What made the difference? Darden itself credited the strong performance on meat "grilled correctly," which seems like it should be given.
Darden is right about consumers being thrifty. And so-called casual restaurants are definitely feeling the brunt of that, according to data from NPD Group. Darden's strategy is to move downscale, using a $12 steak to lure someone away from a $9 Chipotle burrito. "We've elevated our promotional intensity," Otis explained.
The dive to discounts makes sense. Olive Garden has a better chance of stealing market share from McDonald's than from, say, Momofuku. But in doing so, the company is trimming the juiciest fat from its financials.
Before it's here, it's on the Bloomberg Terminal.
LEARN MORE