Colleges Cut the Cord
Janko Roettgers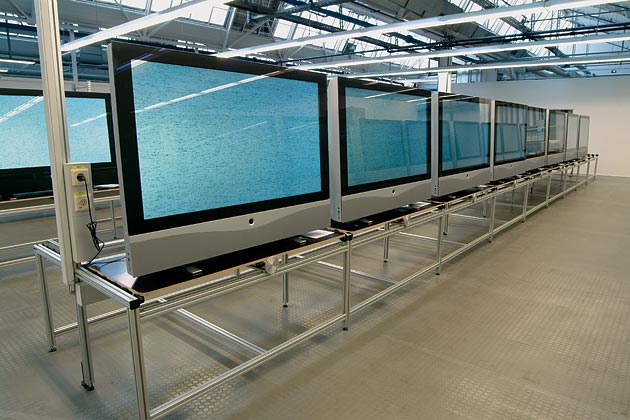 Television isn't coming back to school at Northwestern University this fall: The college decided earlier this year that it was going to turn off its campuswide TV service over the summer. "The decision to discontinue NUTV was the result of many factors including demonstrated non-use by our students," said Northwestern University Information Technology Director Wendy Woodward when asked about the end of the program.
Northwestern University isn't the only school questioning whether it should keep spending money on TV services, considering that students prefer to stream their shows from online services instead. The growing popularity of Netflix and other streaming services on campus also has system administrators looking for better ways to manage all that traffic. But with cable TV being not cool enough for school, are colleges accelerating cord-cutting trends? Or can new campus-focused services get students excited about TV again?
Netflix seems to be by far the biggest winner of shifting TV consumption habits on campus. The streaming service now accounts for up to 30 percent of all residential downstream Internet traffic in the U.S. during peak times, and it's starting to have an impact on college campus networks as well.
That's why Internet2, the superfast, next-generation research network interconnecting college campuses across the country, struck a peering agreement with Netflix a year ago. As a result, Netflix streams are now delivered over Internet2's infrastructure, significantly lowering bandwidth costs for participating universities. Internet2 has been offering this kind of peering for traffic from a number of the Internet's biggest brands, including Amazon and Google, since 2006. Experts estimate that getting this traffic from Internet2, as opposed to commercial providers, cuts colleges' bandwidth costs in half.
Some schools are going even further, directly partnering with Netflix to put the company's Open Connect caches within their campus networks. Open Connect boxes regularly download the most popular content from Netflix's servers and stream them locally to viewers. A Netflix spokesperson, when contacted for this story, declined to comment on any cooperation with universities, but we have heard that a number of campuses already have Open Connect boxes deployed, thereby allowing their students to watch Netflix in SuperHD.
Netflix isn't the only one trying to help colleges with their streaming students. Boston startup Tivli is betting that students will continue to watch TV, if you package it the right way. "College students love television—they just don't watch it on televisions," Tivli's chief executive, Christopher Thorpe, said during an interview this week. Tivli started as a bit of an experiment on Harvard's campus, when its founders were figuring out how to capture over-the-air television and stream it to rooms of friends in their dorm.
The experiment took off, and Harvard helped the team launch a campuswide test early in 2011. Since then, Tivli has expanded to more than a dozen campuses and is now serving "thousands of students," according to Thorpe.
To be fair, Tivli isn't the first effort to stream TV on campus networks. Northwestern's now-defunct NUTV also offered some basic streaming—but Tivli is trying to make the experience comparable with an Internet-based streaming service such as Netflix. The company is serving up streams on PCs and Roku boxes, offers unlimited DVR recording capability, and wants to add mobile clients next. And like Netflix, Tivli is deploying its technology locally, allowing campuses to serve up streams from within their network, thereby lowering their bandwidth bills.
Tivli is also using schools' existing contracts with cable or satellite providers, adding authentication to make sure that only students whose fees have been paid get access to the offering. That's one of the reasons networks love the service, to the point that HBO joined in on the company's recent $6 million Series A round of financing. Tivli now wants to use that money to add dozens of more schools and eventually even expand beyond campus.
Even with such services as Tivli, the question remains: Will students ever subscribe to a traditional cable service once they graduate and move out of their dorm room? Thorpe thinks so, arguing that people will continue to get access to the shows and games they like to watch.
He admitted that they might be turned off by the traditional cable experience, with its grid guides and set-top boxes, after becoming used to streaming everything on campus. But Thorpe added that TV providers are catching up quick with TV Everywhere offerings and efforts to take live TV feeds online. In a way, campus TV experiments could point toward the future of pay TV in general.
Of course, there's always another option. Used to piecing together their own programming from online sources, students could decide they don't want to spend on high cable bills and invest their money elsewhere. That, coincidentally, is exactly what Northwestern University just did. The school is spending money it saves with the end of its TV service on improving its Wi-Fi infrastructure.
Also from GigaOM
Nielsen to Add Mobile to TV Ratings, But Will They Still Be 'Bad Boyfriend?' (subscription required)
Why Privacy Settlements Such as Facebook's "Sponsored Stories" Lawsuit Aren't Working
How to Transfer the Contents of Your Old IPhone to the IPhone 5s or IPhone 5c
4Chan Has Rules Now, Apparently
Before it's here, it's on the Bloomberg Terminal.
LEARN MORE