business
Gaming Wharton's Course Scheduling System Just Got Tougher
Louis Lavelle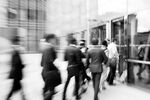 MBA students at the University of Pennsylvania's Wharton School who find themselves in the most popular classes this semester may be in for a bit of a surprise: fewer of the same old faces.
The reason is a new course scheduling system that, unlike the one it replaces, is impossible to game.
Like many top business schools, Wharton for many years has used a bidding system designed to manage demand for the most popular courses. Most schools award students a set number of points that they can use to bid on—or "buy"— the courses they want over multiple rounds; the highest bids get the slots.
Few students were happy with the system, known as the Auction, which dates back to 1996, at least in part because it could be easily gamed. "You needed to know what you were doing, but it was fairly easy to take an arbitrage position," says one "confidential" student informant quoted by the Wharton Journal. "During the early rounds I would buy a bunch of classes that were requirements for first years and sell them back as the clearing prices rose. From there I had my choice of the popular classes."
The new system, known as Course Match, which was implemented mainly to accommodate Wharton's new curriculum, works differently. Students enter their course preferences and an algorithm spits out a schedule—no points, no multiple rounds, and no bidding.
How well does it work? According to Gérard Cachon, who chairs Wharton's operations and information management department, its big selling point is equity. "It diffusely distributes these scarce resources rather than concentrating them in the hands of a few students," he told the Journal.
An initial review found that Course Match improved the likelihood that second-year students could enroll in one of the most popular courses by more than 50 percent compared with the Auction results a year ago.
To put that in terms an economist might understand: If Wharton were a country, the Course Match system dramatically reduced inequality. Its Gini Coefficient—a measure of a country's income inequality—would be 0.32, on a par with Canada's. The Auction system has a Gini Coefficient of 0.51, making it worse than Mexico, the Journal reported.
As part of the beta testing of the new system, students did a side-by-side comparison with the old one, choosing classes for the spring semester using both. The Journal reports that the majority of students preferred the schedule created with Course Match.
Join the discussion on the Bloomberg Businessweek Business School Forum, visit us on Facebook, and follow @BWbschools on Twitter.
Before it's here, it's on the Bloomberg Terminal.
LEARN MORE