On These Asian Airlines, Paying Extra Means No Kids Allowed
Some carriers let passengers reserve seats in adults-only areas
By and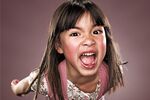 CNN anchor Richard Quest caused a stir last year when he advocated in Britain's Independent newspaper that infants be banned from business class on airplanes. "A baby in business class is invariably going to wail at some point," wrote the cheeky Brit, who took his ban-the-babies campaign to Twitter in August.
Several Asian carriers have heard his cry. AirAsia X, an affiliate of that continent's largest discount carrier, and Malaysian Airline System already segregate passengers traveling with kids. Singapore Airlines' budget carrier, Scoot, in late August went a step further: It unveiled a child-free zone for coach passengers prepared to pay extra. Both Scoot and AirAsia X have a no-kids policy in business class.
Seat-kicking and unruly children ranked ahead of drunken passengers, rude cabin crew, and lecherous neighbors as onboard annoyances in a July survey by Gocompare, a British website that tracks financial and other services. Respondents said they'd be prepared to pay £50 ($78.65) more on a round-trip flight if they could sit in a child-free zone.
"People love their own kids, but they might not necessarily love someone else's," says Scoot Chief Executive Officer Campbell Wilson. "Allowing someone the option of traveling with the assurance of not having young children around is simply one of the many choices you have."
Scoot charges an extra S$14.95 ($11.85) for 41 economy-class seats directly behind business class with 3 inches of extra legroom, where children under 12 aren't allowed. There was "some very robust debate" in the office about the merits of the service, says Wilson, who doesn't have children.
Carriers that have introduced child-free zones say they haven't received significant negative feedback. "Getting choice means you are satisfying both sets of people," says Azran Osman-Rani, CEO of AirAsia X. "Even families with kids are positive, because now they are in the other zone and they feel less guilty." Scoot and AirAsia X use blocks of toilets to separate their adults-only zones from the rest of the cabin. Malaysian Airline introduced a mostly child-free upper deck on its A380 jumbos when it entered service in July 2012. The carrier said it will seat families in the 70 upper-deck economy seats only if there's no room left in the 350 economy seats on the lower level.
Some parents see the wisdom of isolating airborne tykes. Says Marcus Osborne, a father of three and a partner at branding consultant FusionBrand in Kuala Lumpur: "If I had the option to sit in an area where there were no kids, I would probably jump at the chance."
Other carriers are also trying to be accommodating. Etihad Airways has hired consultants from Norland College, a U.K. child-care training center, to teach child psychology and sociology to about 500 cabin crew designated as "flying nannies" on the Abu Dhabi-based carrier's long-haul flights, a free service available in all classes. The orange-aproned nannies serve children's meals early in the flight, fill milk bottles, and offer activities ranging from magic tricks and origami to playing with sock puppets. Older children get tours of the galley. Etihad CEO James Hogan introduced a similar program in 2003 when he ran Bahrain's Gulf Air. "We have received fantastic feedback from guests," says Aubrey Tiedt, Etihad Airways' vice president of guest services.
That may be because an unhappy child is often a loud child. According to the American Tinnitus Association, a child's scream can be 105 decibels—louder than a chain saw or a subway train. Regardless, Andy Curr, a Web designer and mommy blogger from Sydney, says branding children as the biggest source of in-flight annoyance isn't fair. "You can't choose who you fly with," she says. "Adults are usually the worst-behaved, and drunk sometimes."