Republican Representative Justin Amash Spills His Guts on Facebook
The Michigan congressman bares his finances online and explains every vote on Facebook
By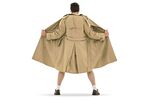 After a rapid series of votes on the House floor last September, Representative Justin Amash admitted to his Facebook followers that he'd inadvertently opposed a land use bill he meant to support. "I accidentally voted 'no' on the Grijalva of AZ Part B Amendment 4 to H R 5544," he confessed. "I apparently confused the Grijalva amendment with the Ellison amendment before it." Explaining his mea culpa, the Republican congressman wrote: "Being accountable means I let you know about every vote even when I goof up."
Amash was just 30 when Tea Party supporters in Michigan first elected him to the House of Representatives in 2010. Like other right-wing Republicans running that year, he vowed to shrink the government and repeal Obamacare. (He's among those calling for a government shutdown if the president doesn't defund the health-care law.) His other big issue was accountability. He said he'd push to make Washington more open to voters. And when he took office, he brought with him a regimen of personal candor beyond that of any other member of Congress.
Amash, not a staffer, writes up his reasoning for each vote he casts and posts it online ("I voted yes on H R 45, which fully repeals Obamacare. The law is unconstitutional, and its harmful consequences have already begun to take effect …"). He tweets his whereabouts hour by hour ("Thx to @google for inviting me to their awesome #NYC campus. Great conversation on security, privacy & education"). Amash has more than 67,000 Facebook followers—twice Speaker John Boehner's. "By showing that I can do it in my own office, it reflects on what other agencies should be able to do," he says.
The About Me page on his congressional website includes a detailed financial disclosure that spells out his salary ($174,000) and benefits with Dick-and-Jane simplicity, an exercise carried over from his previous job as a Michigan state representative. It makes for compelling reading, if only for its novelty:
I receive health benefits under the Federal Employee Health Benefits Program. My health insurance covers medical expenses and a prescription drug plan. I am enrolled in the Self and Family Standard Option Blue Cross Blue Shield Service Benefit Plan. My monthly contribution is $433.63 per month.
My dental coverage is through the Federal Employees Dental. I am enrolled in the Self and Family High Option for MetLife PPO, to which I contribute $115.09 per month.
The page goes on to list the salaries of his 15 staffers. Kristin Byl, his part-time district assistant, makes $12,000 a year. His chief of staff, Ben Vanderveen, $125,000. These salaries are public information. Unlike his colleagues, though, Amash doesn't make constituents paw through federal disclosure forms to find them. "It's the first of its kind that I've seen," says Sheila Krumholz, executive director of the Center for Responsive Politics, who says transparency will become more common as "young, native-digital" politicians come to Washington. Edwin Bender, executive director of the National Institute on Money in State Politics, agrees: There's "an expectation now among the public of immediate access to information," he says.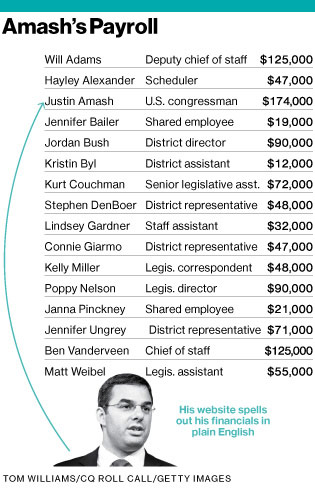 There are limits to Amash's openness. Two sentences you won't find on his About Me page: "I own a stake in my family business, Michigan Industrial Tools, valued between $500,000 and $1 million"; and "My top donors include Amway and the Club for Growth, which have each given more than $50,000 to my campaigns." When he explains why he doesn't list his relatively modest outside assets—which are public but not easy for voters to find—Amash sounds more like a typical congressman. They don't "pertain to my work here as a government official," he says. And his donors? They're on "the campaign side. That's a separate issue."
Amash's online experiment has won him praise but also grousing from voters who hadn't known that congressional staffers can make six figures. "Let me know how to apply," wrote one. A few suggested he could squeeze more from his federal retirement accounts: "Give up to the maximum," said a supporter, "and watch your money grow."
When he first got to Congress, Amash would bring an iPad to the House floor and tap out his how-I-voted explanations in real time, balancing the tablet and a Bluetooth keyboard on his lap. "It was a real pain," says Will Adams, Amash's deputy chief of staff (salary: $125,000). "When the voting was every two minutes, there was a real danger he might miss a vote while he was updating his Facebook page." He now typically posts within days of a vote, though he's currently a few weeks behind. "It keeps us very disciplined," Adams says. "We can't be sloppy about our thinking." Among Amash's fans: Facebook Chief Operating Officer Sheryl Sandberg, who called him out in an April 2012 speech. "Imagine what the world would be like if elected officials all over the world were that honest and transparent," she said.
Amash understands why other members aren't eager to follow his lead. Continually explaining yourself is time-consuming. "You can't decide to skip a few votes," he says, "or decide you're not going to explain a few votes this week." His personal openness has given Amash political credibility as he goes against party leaders in demanding greater accountability from the federal government. Over the summer, he harnessed public anger over revelations about domestic spying, forcing a July 24 vote on an amendment he wrote that would restrict the National Security Agency's ability to collect U.S. citizens' phone records. It failed by seven votes.
Afterward, some Republicans anonymously griped to Politico that Amash was a "child" with a big soap box and little experience legislating. Since then, news that the secret court overseeing the NSA said the agency repeatedly misrepresented the scope of its spying has revived Amash's measure. Representative Darrell Issa, the influential Republican who leads the House Oversight and Government Reform Committee, has said he regrets voting against it and has asked the House leadership to bring it up for another vote. "I think there is a lot of fear among people who have been here for a long time," Amash says, "that those of us from the new generation who are very transparent and open are a threat to the way things have worked."
BOTTOM LINE -
The bottom line: Amash's push for transparency has some Republicans griping, but Sheryl Sandberg has praised him.
Before it's here, it's on the Bloomberg Terminal.
LEARN MORE