Princeton Sues Princeton for a Share of Its Patent Millions
Residents want a piece of the school's millions in patent income
By and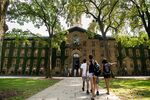 More than three decades ago, Princeton University professor Edward Taylor invented the compound that became the anticancer drug Alimta. The years he spent working with Eli Lilly paid off in 2004, when the U.S. Food and Drug Administration approved Alimta as a treatment for mesothelioma. The $2.5 billion-a-year drug is used in more than 100 countries, and it made up 11 percent of Lilly's sales last year.

Alimta is also a moneymaker for Princeton, which patented the technology that Taylor developed and licensed it to the company. From 2005 to 2012, Princeton reaped $524 million in licensing income, mostly from Lilly. The school used some of the money to help build a 265,000-square-foot chemistry building in 2010, naming its lobby and an auditorium after Taylor. It also made payments of $118 million to faculty from 2005 to 2011.
All that money has made some residents of Princeton, N.J., a wee bit covetous. Bruce Afran, an attorney who lives in the town, is suing the school in the Tax Court of New Jersey on behalf of four other residents and the estate of a fifth, arguing that the country's fifth-richest university—with a $17 billion endowment—doesn't have the right to collect and distribute profits while claiming tax exemptions on most of its property. "Some faculty are becoming fabulously wealthy, while taxpayers are paying more than they should," says Afran. "That is fundamentally unfair."
Princeton declines to say what portion of its royalties have gone to Taylor, an organic chemist. The school lost its motion to get the lawsuit dismissed this summer. "There's a lot riding on this," Judge Vito Bianco said at the hearing in which he refused to toss out the case. "It's not just for this university or for every university in the country, but for nonprofits as a whole. I think this case is going to have a very, very deep" impact.
Under a 33-year-old U.S. law, the Bayh-Dole Act, universities that accept federal dollars for research are allowed to license the patents developed in their labs and split royalties with companies and the federal government. Google has paid Stanford University $337 million in royalties for the Web search algorithm that founders Sergey Brin and Larry Page developed as students. New York University, the top academic recipient of licensing money, collected more than $185 million last year.
In a survey in 2012, the Association of University Technology Managers counted almost 10,000 products that had been patented and licensed by academic institutions. Almost 200 schools brought in a combined $2.6 billion in royalty payments last year. Most spend those proceeds on research, scholarships, or upkeep, according to Sean Flanigan, the organization's president. The lawsuit in New Jersey concerns him because a win for the residents could spark other litigation and potentially shrink the pots of money that schools have for research. "We would not want any type of result that could have a chilling effect on innovation," he says.
The central question in the Princeton case is whether a royalty payment qualifies as profit. The school's attorney, Keith Lynott, said in oral arguments in June that the test under New Jersey law is "whether the institution seeks to generate profits from its activities, not merely whether it makes payments to individuals." Sharing royalties with faculty, who under Bayh-Dole must assign their patents to their employer, isn't profit sharing, Lynott said in court. "It's simply recognition in the form of just compensation for ownership interests that the faculty inventor would otherwise have."
Martin Mbugua, a spokesman for Princeton, says, "We have every confidence that the court will uphold our tax exemption." The university does pay some local taxes. It will cut checks for about $10.2 million in school, sewer, and other municipal tax this year, making it the top taxpayer in the town of Princeton, according to Kathryn Monzo, the municipality's assistant administrator. The school will also give the town an extra $2.48 million, a voluntary payment that large nonprofit landowners not subject to property taxes often make as an act of goodwill.
Yet Mayor Liz Lempert says there's a widespread feeling in town that the university should pay more. The school is Princeton's biggest landowner—meaning that a sizable portion of the real estate in the town of 30,000 goes untaxed. Lempert says many residents appreciate the prestige and benefits that Princeton brings, but "they also want to feel the university is being a good community partner and paying its fair share."
BOTTOM LINE -
The bottom line: Princeton University has collected $524 million from licensing its researchers' patents since 2005.
Before it's here, it's on the Bloomberg Terminal.
LEARN MORE