Oil Payout for Alaskans Slowly Recovers From the Financial Crisis
by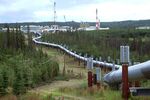 The annual check from Alaska's $47 billion Permanent Fund is fun money for some state residents and vital to others. Every Alaskan will receive $900 next month, $22 more than last year as the payout slowly recovers from the financial crisis, which lowered the payment.
The payments are based on a five-year average of income from a fund created in 1976 by state legislators to invest a portion of the revenue from North Slope gas and oil. The dividend is paid to residents who have lived in Alaska for at least one calendar year. The biggest annual payout—$2,068—came in 2008 after several years of robust market gains swelled the fund. In 2009, however, the fund lost $2.5 billion, and payments to Alaskans tumbled. Here's a look at payments over the past 20 years.

Before it's here, it's on the Bloomberg Terminal.
LEARN MORE