Kate Moss, Hendrix's Home, Rod Stewart: London Weekend
undefined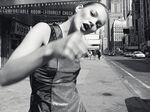 Kate Moss, Rod Stewart, and Jimi Hendrix's old apartment are our choices for London this weekend.
STAGE
You have two weeks left to see Othello in fatigues.
The National Theatre's up-to-date version of the tragedy unfolds in a U.K. military compound with dreary office furniture and helicopters rattling overhead. There, Othello (Adrian Lester) and Iago (Rory Kinnear) play out their ferocious tale of jealousy and murder; one key scene takes place in a toilet.
The well-reviewed "Othello," directed by Nicholas Hytner, ends Oct. 5 at the National Theatre. For more information: http://www.nationaltheatre.org.uk or +44-20-7452-3000.
DINING
Chop Shop, which just opened on Haymarket, is the first London outpost of Altamarea Group, the owner of fashionable New York restaurants such as Ai Fiori, Marea and Costata. Chop Shop is inexpensive and low-key, with a menu centered on steak and Italian-American fare. For such a high-profile company, Altamarea has snuck under the radar with this one.
Information: http://www.chopshopuk.com or +44-20-7842-8501.
Berners Tavern is the latest restaurant from chef Jason Atherton, who created Maze for Gordon Ramsay before going on to open Pollen Street Social. Berners Tavern is in a dramatic high-ceilinged room inside Ian Schrager's London Edition hotel, which was filled with beautiful people during London Fashion Week. It's already hard to get a table in the restaurant. Information: http://www.bernerstavern.com/ or +44-20-7908-7979.
VISUAL ARTS
Kate Moss is on show at Christie's this weekend.
Fifty-eight artworks featuring the supermodel are displayed in a pre-auction exhibition. There are portraits by Irving Penn and Annie Leibovitz, a Peter Blake collage, and a Chuck Close tapestry.
The works (from the Gert Elfering collection) come in a range of prices: from 4,000 to 6,000 pounds ($6,430 to $9,650) for a Bruce Weber print to 120,000 to 180,000 pounds for an Allen Jones sculpture.
The show runs Sept. 21-24 at Christie's, King Street, SW1Y 6QT, where the Sept. 25 auction takes place. Information: http://www.christies.com or +44-20-7839-9060.
MUSIC
Rod Stewart will be showcasing all sides of his career at the O2 on Sept. 20 and 21. On the menu: sing-along hits of the "Maggie Mae" variety, a touch of his "Great American Songbook," and tracks from "Time," his first set of originals in years. Information: http://www.rodstewart.com
Those who prefer 1980s electronica are spoiled for choice in Islington on Sept 20. Synthesizer star Thomas Dolby will play soundtrack music at the Union Chapel. Nearby, at the Garage on Highbury Corner, the reformed Visage will perform hits such as "Fade to Grey" and songs from its comeback album. Information: http://www.thomasdolby.com/ and http://www.visage.cc.
OTHER LONDON OUTINGS
This weekend is your chance to visit 10 Downing Street, the prime minister's office.
As part of Open House London -- the once-a-year opportunity for the public to visit off-limits places -- David Cameron is letting in the hoi-polloi. Other treats: the interior of the Lloyd's building (a must-see), Battersea Power Station, and Jimi Hendrix's cramped London pad, now part of the Handel House Museum offices.
Information: http://events.londonopenhouse.org.
(Farah Nayeri writes for Muse, the arts and leisure section of Bloomberg News. The opinions expressed are their own.)
Muse highlights include the New York and London weekend guides, Richard Vines on food and Lewis Lapham on history.
Before it's here, it's on the Bloomberg Terminal.
LEARN MORE