pursuits
Will Google Glass Catch On in the Office?
Executive and professional users could be crucial for its launch
By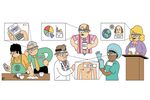 Christopher Kaeding performed his first Google Glass surgery, a knee-ligament reconstruction, in mid-August. Using Glass's camera, Kaeding broadcast his view of the procedure to Ohio State University medical students in a nearby conference room while a doctor located seven miles away watched and consulted in real time. "The students can see better. They can ask questions," says Kaeding. Most important for the orthopedic surgeon: The device's voice controls allow him to shift between conversations with students and consultants without desterilizing his hands. Kaeding borrowed the Glass from a colleague who managed to score one of the more than 10,000 Google has given to schools or sold for $1,500 apiece ahead of its commercial launch. He plans to buy one when it makes its official debut in 2014.
"Glass is first and foremost a consumer device intended for people from all walks of life," says Google spokesman Chris Dale. He adds that Google is also working with developers of business apps. Software maker Evernote has created a Google Glass note-taking app that can share notes and photos with other Glass wearers. The company's chief executive officer, Phil Libin, predicts it will be used mostly at work.
Glass features such as navigation, speech-to-text transcription, and video calling may be enough to attract corporate clients from health care to manufacturing to trucking, says Roger Kay, president of researcher Endpoint Technologies Associates—even at his projected starting price of $600 to $800. (Google wouldn't disclose details on pricing.) Supervisors could use the gadget to film factory inspections; technicians could use it to retrieve product manuals. Kay says he expects Google to sell 3 million Glasses worldwide in its first year, with 2 million of those going to businesses and government agencies.
While the aesthetics of Glass have been knocked by some reviewers, employers will be less concerned with its appearance than its potential to boost productivity, says Sean Madden, executive managing director at Portland (Ore.)-based consultancy Ziba Design. They're also less likely to worry about workplace privacy: More than 65 percent of U.S. employers already monitor employees' Web connections, according to the American Management Association and the EPolicy Institute, while 45 percent track keystrokes and phone numbers dialed. Some employers may welcome the chance to look even closer. "There's the potential with Google Glass for there to be a significant increase in corporate surveillance of employees," says Frederick Lane III, an attorney and the author of The Naked Employee: How Technology Is Compromising Workplace Privacy. "The amount of information that could be collected is really staggering."
For a model of recent office hardware success, Google need look no further than its Silicon Valley neighbor, Apple. About 30 percent of iPads are bought by business and government clients, according to investment adviser Avondale Partners. Already, Glass is generating as much interest among employers as the iPad did prior to its launch, says Allen Falcon, CEO at Cumulus Global, which provides cloud-computing services to small businesses, school districts, and municipal governments. Price cuts could make Glass affordable for even the smallest businesses. Roger Entner, an analyst at Recon Analytics, predicts a starting price of $1,000 to $1,500, falling to below $300 within three to four years of the launch.
Some government agencies are fast-tracking Glass pilot programs. In New Jersey's Morris County, the Department of Law and Public Safety will start experimenting with the device as soon as it comes out; it waited a year after the iPad's debut to begin a similar trial. With Glass, "We see more usable applications," Director Scott Di Giralomo says, mentioning a service called Mutualink that allows first responders from different agencies to share audio and video communications. Public safety officials in Brazil plan to buy and test up to 20 Glass units loaded with Mutualink during next year's FIFA World Cup games, a trial run ahead of the 2016 Olympics, says Alexandre Corval, superintendent of information technology and communication for Rio de Janeiro's Security Secretariat of the State. Says Corval: "This is a priority."
Before it's here, it's on the Bloomberg Terminal.
LEARN MORE