Four Great Recipes for Eating a Healthy Lunch at Work
Four healthy, easy-to-make options from people who do it for a living
by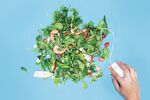 Shaun Hergatt
Executive chef and principal, ESquared Hospitality
"I typically make a simple salad with lean fish—it's healthy and keeps me feeling energetic throughout the afternoon. I always end with a ripe fruit to finish off with something sweet."
 
Shaun's Shrimp and Avocado Salad
6 large cooked shrimp
4 oz. young salad greens
½ diced avocado
8 cherry tomatoes, halved
6 endive leaves
½ diced apple
 
Dressing
¼ cup olive oil
2 tbsp. fresh lemon juice
1 tsp. grain mustard
1 tsp. chopped chives
½ tsp. sugar
Pinch of salt
Pepper to taste
 
Bring the dressing, salad, and shrimp to work in three separate containers. Toss together and enjoy.
 
Tripp Wiggins
Co-founder, Cooking Planit
"We're a lean startup, so the entire team works remotely from home, where it can be really easy to slack off and either eat something terrible for you or skip lunch altogether. I have a recurring calendar notification to remind me to eat, usually a salad with some protein, such as nuts."
 
Tripp's Pistachio Salad
½ cup shelled unsalted pistachios
4 oz. baby spinach
½ cup crumbled blue cheese
 
Dressing
1 tbsp. finely chopped shallots
3 tbsp. balsamic vinegar
2 tsp. Dijon mustard
¼ cup extra-virgin olive oil
Pinch of black pepper and salt
 
Toast pistachios in a small sauté pan for 7–10 minutes. Mix dressing ingredients in the order listed. Toss with salad and cheese.
 
Liz Neumark
CEO, Great Performances Catering, author of Sylvia's Table: Fresh, Seasonal Recipes From Our Farm to Your Family
"Farro has enough bite to maintain its integrity for three-plus days and travels well to work. Farro and eggplant together are satisfying without being too heavy for lunch. This 30-minute dish can be enjoyed either hot or at room temp."
 
Liz's Farro With Roasted Eggplant, Red Pepper, and Olives
Salt
1½ cups farro
1 eggplant, sliced
2 bell peppers, cored, seeded, and sliced
½ cup pitted and chopped kalamata olives
 
Dressing
¼ cup olive oil
2 tbsp. fresh lemon juice
 
Simmer farro in a pot of water for 30 minutes. Roast eggplant and peppers, sprinkled with oil and salt, on a baking sheet at 400F for 10–15 minutes until browned; toss with farro and olives. Whisk lemon juice and oil; drizzle on farro and vegetables.
 
Janie Hoffman
CEO and founder, Mamma Chia
"I am a huge fan of keeping my lunches on the lighter side, so I'll often just sip a nutrient-dense green smoothie."
 
Janie's Lunch Smoothie
1 cup frozen mango cubes
1 cup peeled, seeded, and chopped cucumber
2 tbsp. chia seeds or flaxseeds with 1 cup water
½ cup apple or tangerine juice (not from concentrate)
1 handful kale or baby spinach
2 tbsp. mint leaves
2 tbsp. parsley leaves
1 tbsp. lemon juice or apple cider vinegar
Pinch of cayenne pepper
 
Puree all ingredients in a blender until smooth; double the recipe for two lunches.
Before it's here, it's on the Bloomberg Terminal.
LEARN MORE