Eternal Tarmac Delays Vanish—Without Huge Fines
By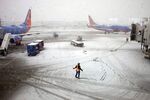 With airlines howling in protest, federal regulators in 2010 imposed a rule putting a three-hour limit on the period passengers can spend aboard a plane waiting out delays. The so-called tarmac-delay rule touted draconian penalties: fines as high as $27,500 per traveler.
"A very stupid rule" is how Jeff Smisek, the chief executive officer of United Airlines, described it at an investor conference in 2010, back when he was running Continental Airlines. Anticipating waves of backed-up flights with every storm, Smisek predicted the industry would cancel thousands of flights as a way to avoid financial penalties running into the millions. A single flight on a full Boeing 757, for example, could incur a tarmac-delay fine of more than $5 million.
But a funny thing happened on the way to this predicted mess: Extended tarmac delays, never terribly common in the first place, essentially disappeared without much even in the way of heavy fines by regulators. Since November 2011, four U.S. airlines—American Eagle, JetBlue Airways, United, and Virgin America—have been fined a total of just $1.38 million for breaking the rule.
In the first seven months of this year there were 59 tarmac delays longer than three hours, compared with 693 such delays in the 12 months ended April 2010, when the rule took effect, according to U.S. Department of Transportation data. In 2011 regulators expanded the delay rule to international airlines with U.S. flights, giving them four hours to deplane passengers. Five foreign carriers—Air China, Avianca, Caribbean Airlines, Copa Airlines, and Pakistan International Airlines—have been fined a total of $590,000.
The largest fine, $900,000, was the very first one. It was levied against American Eagle over a May 29, 2011, incident when 15 Eagle flights with more than 600 passengers sat on regional jets at Chicago's O'Hare International Airport because of thunderstorms throughout the day, which led to a cascade of delays for the airline.
"The department's rules on tarmac delays have virtually eliminated the long waits aboard aircraft that passengers used to experience too frequently," Transportation spokesman Bill Mosley wrote in an e-mail.
Airlines argue that the rule forces them to cancel many flights that otherwise would have departed, inconveniencing thousands of travelers. And with planes booked fuller than in past years, rebooking can often take a day or more after a flight is canceled. "The requirement of having planes return to the gates within a three-hour window or face significant fines is inconsistent with our goal of safely completing as many flights as possible," Airlines for America, the U.S. airlines' lobbying group, said in a statement.
The airlines also point to a 2011 study (PDF) by the U.S. Government Accountability Office that found Transportation officials had not fully assessed cancelations at rural airports in its implementation of the rule. The report also concluded that the tarmac-delay rule correlates with an increased likelihood of flight cancelations.
The Transportation Department is still investigating a July 22 incident involving a Southwest Airlines jet whose nose gear buckled upon landing at New York's LaGuardia Airport, snarling traffic at the airport for hours. Twelve of the 13 three-hour-plus delays in July were caused by the Southwest incident, which closed one of the airport's two runways. Because of the accident, those cases are unlikely to generate delay fines.
Before it's here, it's on the Bloomberg Terminal.
LEARN MORE